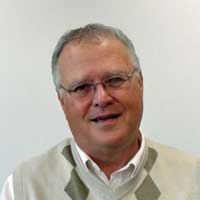 "The Ballad of Rick Mowell"
Words and music by Leonard Running
with Mrs. Christensen's 4th Grade Class
©2015 Leonard Running
Oh, sing we now for our friend Rick Mowell
This humble little ditty.
Just twenty years old and sworn to uphold
The laws of Spearfish City.
Chorus:
Oh, yes, you've got to chase them down
When the bad guys got a frown
You're the sheriff in this town.
Life was cool as Rick cruised through school.
He spent his winters skiing.
A twist of fate – too sad to relate
It changed his way of being.
Chorus:
Through all those years, Rick faced his fears.
Though two times he got shot at.
But twice they failed; the bullets they sailed
To a place that he was not at.
Chorus:
That hot July under fiery sky
Rick used his sheriff's power.
Both Deadwood and Lead, his words did they heed
And left within one hour.
Chorus:
Rick acts amazed at his life these days
To read and mow and walk a lot.
He's a retiree with his wife Sherry
And Buster, their lab of chocolate.
Chorus X2

My full name is Richard E. Mowell. I don't think there are a lot of interesting things about my name, but other than a long time ago, way back when my ancestors went from Europe to England, my last name was spelled M A U L. When they moved to England they changed it to M O W E L L Mowell. Like an English name. Not many Mowells in our world.
I was born April 3, 1952 in Brookings, SD. My father was going to SD State University for pharmacy school at the time I was born. We moved to Spearfish when I was 9 years old (1961) because my mom wanted to be a teacher and my father worked at a pharmacy in Spearfish.
I actually had a pretty happy childhood growing up in this area, playing in the woods, tubing down the creek, and I had a lot of good friends. I enjoy the hunting and fishing in this area. I really like the people here, so it is fun growing up in Spearfish.
I liked school most of the time. Not 100% of the time, but most of the time. My favorite thing to do in school was learning. Some days I liked to learn more than other days. My favorite class was probably history class and geography!
I did not know what I wanted to be when I was your age. I thought about being a doctor, but I wasn't very good in math or science; I have to admit. Doctors have to be very good in math and science. So, I really didn't know what I wanted to be until I was just a year out of high school. In college I was a ski instructor, on ski patrol, and taking classes at BHSU, when I was in a really bad car wreck in February, 1972. As two of my friends and I were driving back from Deadwood after a day of skiing, a man who had been drinking was driving towards us and he hit us head on. The driver of that car died and a good friend of mine died. I realized then I wanted to help others like the police officers and people who came to help us. I gained a lot of respect for the officers and the people who helped my friend and me. I was in the hospital for 2 weeks or so. The accident changed my mind of what I wanted to be when I grew up.
Being a ski instructor and ski patrol was my first job. I became a police officer in 1972 as a dispatcher, then a sergeant, a police chief and a sheriff. They all had their good points and bad points and I enjoyed that.
I was elected to be a sheriff. The first time running for sheriff is always a little more nerve racking. You don't really know what people think of you. In front of my face they would say nice things about me, but would they vote for me once they were behind those curtains? I just didn't know. In 1995 I was elected and then I had 4 other elections after that one. 20 years a sheriff!!!
I met my wife at work. She was an animal control officer working for Spearfish. We met and hit it off and we have been happily married for 36 years!!! When you meet someone and you know it, you just kind of know it. Her name is Sherry.
We have a son whose name is Sean. S E A N, spelled a good Irish way. He is now 32 years old and works for the Meade County Sherriff's' office. He is our only child.
Having been in law enforcement for 42 years, there were many exciting times! One was when we had to evacuate Deadwood and Lead in 2001. There was a big forest fire when a power line sagged into a tree and started a fire. The wind was blowing fairly hard. We had to evacuate Deadwood and Lead in a very quick way. Over 6,000 people out of their homes in one hour! Trees were exploding; it was very hot! Houses even blew up. It was a very scary time. I had many exciting times, but that was probably the most exciting.
You always want to accomplish things. I accomplished being a successful law enforcement officer by protecting people from the bad things in the world. I consider myself successful because I was able to be accepted by my peers. I graduated from the FBI academy. I was president of the Police Association and Sheriff Association in my 42 years of law enforcement. All the people who worked with me took care of me. They did a very good job, and were adept at what they did. I picked good people who did the right thing at the right time.
The best advice I can give you is to always think of other people who you are working with, treat them with respect, treat them the way you want to be treated. You will have a more successful life if you do this. Learn lots! Always do what your parents tell you to do!!! Teachers, too!!!!