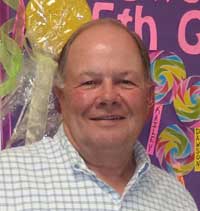 "In the Life of Tom May"
Words and music by Leonard Running
with Mrs. Kellogg's 5th Grade Class
©2014 Leonard Running
We sing today for Tom May.
Tom May's OK, he's cool.
Tom knows we need to write and read
So we succeed in school.
But it's not the kind of teaching that his mother did.
He knows where the strengths and talents are hid
In the hearts and the minds of every kid
Each day,
In the life of Tom May.
Tom talks with ease of memories
Of no TVs in childhood.
He still depends on having friends
Like way back then in Deadwood.
His father ran a store and brought him baseball cards.
To be his mother's pupil was a little bit hard.
The whole Northern Hills was his own back yard
To play,
For young Tom May.
Tom's first concern would be to learn
A way to earn a living.
A way to shine and use his mind
and still be kind and giving.
He knew that his future wasn't in P.E.
He went to college, got a couple degrees;
He knew that a job in guidance would be an OK
Career for Tom May.
Now Tom would find words wise and kind
Could change a mind forever.
He thought he'd wait to choose a mate;
But better late than never.
He knows that it all depends on attitude
Combined with an equal part of gratitude.
It's the love and care that's been added to
the DNA
Of our friend Tom May.

Thomas William May was born in Deadwood, SD June 25. 1946. He had one older sister and when asked what it was like having a sister, Tom replied, "It was good for me, but probably bad for her."
When Tom was growing up, his Mom was a second grade teacher in his school, so he couldn't get away with anything! Tom always wanted lots of friends, but should have worried more about school. He did like school for all the socializing. He loved to read in school and believes that if you are a good reader, you will be successful in life.
The only thing he was afraid of when he was younger were bigger kids, because he was small for his age. He overcame this by talking those kids into liking him. Sports and playing outdoors made young Tom happy.
Tom attended college at Black Hills State College and the University of Sioux Falls. After graduating, his first job was being a H.S. teacher. He taught PE, History, Sociology, and Psychology. He also coached and knew he wanted to be a coach until he died…UNTIL his football team wound up losing EVERY SINGLE GAME. He then realized that coaching was not that fun! He continued to watch and love sports, but no more coaching for him.
His second career was being a High School Guidance Counselor for 14 years in Chamberlain, SD and 16 years in Spearfish, SD. Even though he did not have children of his own, he helped thousands of teenagers throughout his career. When asked what he accomplished in his lifetime, he said to help kids achieve and be happy with their life.
In 2004 after retiring, Tom married the love of his life, Sarah. They had known each other for 30 years, and finally realized they were meant for each other. He thought it helped that he was such a smooth talker!
Tom enjoys hunting, however, he admits to not being the best shot. He said he would be happy if he hit the county he was hunting in!!! He would much rather be outdoors doing anything than to be indoors watching television. His first and last DVD he watched was "The Titanic," and he fell asleep during the movie.
When asked about advice or words to live by, Tom told us to never miss an opportunity, always thank the people who help you, and keep learning from your mistakes. He said it is easier to put a smile on your face than to wear a frown, and wonder why it's there. Quoted from Tom May….BE HAPPY…it's that simple!