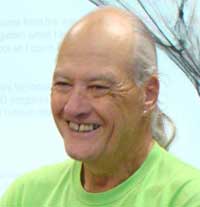 "Tommi Chi"
Words and music by Hank Fridell
with Mrs. Engelhardt's 5th Grade Class
©2014 Hank Fridell
Started school in a hospital
But I didn't give up on life
Didn't give up on my kids
With the death of my first wife
I didn't give up when I wore a brace
From my ankle up to my waist
Sometimes the best things that have happened to me
Are the most difficult I've ever faced
I wanted to be on the basketball team
Wanted to join the Academy
Wanted to coach college and high school
But things seemed to stand in the way for me
Had an operation on my leg, my my
When I wear tennis shoes I thought I could fly
Played and 56 years I coached ball
It's better to try and fail than not try at all
Wonder Fresh, Wander Free
Stand Rooted, Reflect Reality
Take Care, Do Quality Work
And Touch Others Positively
That's my Tommi Chi
I was missing in action
an emotional hole in the ground
Michele's the best thing that's happened to me
She has turned my life around
We have raised our kids and many more
Sixty call me "Grandpa," that's a lot for sure
I hold in my heart kids who've had it hard
I even find new homes for the snakes in our yard
I don't have a bucket list
Because people think you're about done for
But I like trying new things
That I've never done before
Like singing a song with a one word line
Or writing a book of stories that are all mine
Maybe I'll travel to Italy
and get the courage to be on Jeopardy
Wonder Fresh, Wander Free
Stand Rooted, Reflect Reality
Take Care, Do Quality Work
Touch Others Positively
That's my Tommi Chi

Tom Allen was born in a little town called "Queens," in New York, NY. He was named after his father, Thomas Harry Allen who was an Irish/German Bombardier in WWII. His mother, Cesira Salvoni, was Italian, and was from Florence, Italy. He spent the first part of his life in St. Charles Hospital because he had Polio, where he learned to write before he learned to print. When his father returned from the war, he moved to Levittown and he started kindergarten when he was 4. Because he wanted to go to first grade, he switched to Hicksville Catholic School. He is the oldest of 3 and has one brother, Michael, who is his hero, and one sister, Kathleen.
His favorite thing to do growing up was sports. He had to wear a brace from his waist to his ankle and in 4th grade his parents agreed to let him have an operation to allow his leg to move. He would play basketball all day and also swim at the pool. He lived close to a beach, so he would body surf. After a long day of swimming, he would come home tired! He usually played quarterback for football because he was slower than others. He also set a record for being the first person in baseball to ground out left field. Many times his friends would encourage him to try out for the basketball team and he was scared he wouldn't make it so he didn't try out and it is one of the things he feels badly about even today. In his youth he also liked to read, especially science fiction books. In his spare time he wrote poems.
His dream as a child was to go into the Air Force and become a pilot. He loved to make model airplanes. They would not let him in the Air Force because of his leg, so he decided to coach at a high school or college. He also spent his summers being a referee. He started coaching at the age of 12 and has coached for 56 years! One of the most important things he teaches his athletes is, "Winning isn't everything, if they gave their all and left it on the field, THAT is what matters!"
Tom's life revolves around his family. When he married his first wife, she had seven children and they had one child together. She then passed away and he was "missing in action" for a while. He met and married Michele, and she had two children. In the meantime, they raised five other children in their home, as well as having 60 who call him Grandpa! He devotes his life to his kids and grandkids, and has coached them in football, baseball, soccer, basketball and life.
He is a Denver Broncos fan. Lasagna and lobster are his favorite foods. He is not one to say he has a bucket list; because it makes people think you are done in for. He does try something every year on his birthday he has not done before. For example, he sang karaoke in front of a bunch of people. He even had backup singers! He dreams of going to Italy someday and getting the courage to be on Jeopardy because he is pretty darn good at trivia!
He spends his days helping others, which includes writing proposals for many people and groups. His cherished moments are when he gets to see a child graduate from school or when they become parents of their own.
The greatest thing which happened to him was meeting his wife Michele. She "straightened him out." The second was getting Polio, because it made him humble and a better person. He also believes it saved his life because he would have gone into the military and war, and might not have made it back.
His words of advice are to touch other peoples' lives positively, to try to make their life a little better somehow. He also tells kids to live by the Golden Rule and try not to judge others, to go hang out with those no one else wants to, because they are probably pretty cool people. He encourages to try something new every day, enjoy everything and mostly enjoy life!