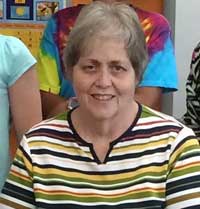 "Good Books, Fun Trips, & Helping Kids"
Words and music by Scott Simpson
with Mrs. Tiffany's 4th Grade Class
©2014 Scott Simpson
Mary Alice grew up in Ipswich
Down the road from Aberdeen
She had lots of kin
Worked the farm, and then
Went to Northern State University
Chorus
Oh Mary Alice…To be a teacher, that was her dream.
Good books, fun trips & helping kids fit her to a T.
Teaching's a tough old job
But she loved seeing the lights come on
To help each child learn
Make excitement burn
To make the passion for reading dawn
Chorus
Every niece or nephew at twelve
Came to visit dear Aunt Mary
Rushmore, Crazy Horse,
All of the caves, of course
Trips through the Hills were never scary
Chorus
In 1995 she decided
To give some children a home
She learned how to foster
No matter what it cost her
100 children, no longer alone
Chorus

Mary Alice Gillick came into this world on January 17, 1951 in Aberdeen, South Dakota. She arrived one day before her mother's 25th birthday and soon became the bossy older sister to 5 younger brothers and two younger sisters. There were eight children born in her family in eleven years.
She grew up in and around the town of Ipswich, South Dakota. Mary loved to play outdoors, and especially enjoyed making mud pies. Always the creative child, Mary used blue seeds for blueberry mud pies, and maple tree seeds for banana mud pies. She also spent a lot of time riding her bike up and down the alley because she wasn't allowed to cross the street.
When she was 9 years old the family moved to a farm outside of Ipswich. On the family farm Mary and her siblings played a lot of baseball and hide and seek in the fields at night. The family suddenly had many pets on the farm. They were afraid of the first dog because they had never had a pet before, but soon Mary loved all of the cats, dogs, horses and cows on the farm. Her favorite dog was Rex.
Mary and her siblings milked cows by hand, cleaned out the barns, helped with haying, did dishes, scrubbed the floors, and drove the tractor. Mary's first experiences driving the tractor weren't terribly successful, but she soon learned how to control the tractor with the manual steering wheel.
As she was growing up Mary loved school, especially spelling and reading. At the ripe old age of 5 or 6 Mary decided to be a teacher. Teaching was her life-long dream. She attended parochial school for 8 years, then attended the public high school. One of Mary's most vivid memories of school was the day President Kennedy was shot. She remembers trying to listen to the news on a transistor radio stuck outside of the doorway to get a signal because there was no TV at the school.
Mary attended Northern State College in Aberdeen, South Dakota. Though it was only 25 miles from home it felt like a long way because it was the first time she was away from home. She was really homesick that first year. She graduated in 1973 and was the first person in her family to graduate from college. She got her first teaching job at a country school and taught grades 5 through 8. Mary remembers having to teach computers. She had only touched a computer one time when the superintendent informed her that she would be teaching the computer class. She stayed one step ahead of the class by taking classes herself. Those first computer classes were on the old Commodore Computers and they learned how to make banners and do simple computer programming.
She moved to Spearfish in 1984 where she taught and was also the school librarian until her retirement in 2006. Mary says she doesn't have a favorite grade that she taught. She loved working with kids and seeing them learn. She enjoyed seeing the "lightbulb" come on when they grasped a new concept. Though teaching was a lot of work, there was always enjoyment in working with the students.
Mary's love for working with children extended to being a foster parent to about 100 children. Mary became a foster parent in 1995. She was a foster parent for about 17 years. She stays in contact with some of her foster children. She also has a special bond with her many nieces and nephews, enjoying a one week Black Hills tourist excursion with each one when they reach the age of 12. Mt. Rushmore, Crazy Horse Memorial, and the Mining Museum are their favorite places to visit.
After retiring from the Spearfish Public School System, Mary soon found herself working with one of her favorite things again….BOOKS! Mary began working at the Spearfish Public Library in 2007. She also helps at the school libraries, especially at Book Fair time. She says she has a LOT of experience with book fairs!
Mary's advice to children is to, "Care about others, look out for each other, and be aware of what's going on around you." Mary also shared her Father's words of wisdom….STAY IN SCHOOL! Learn all you can learn and help others.