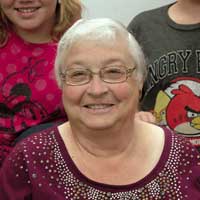 "Caring, Kind, and Full of Love"
Words and music by Hank Fridell
with Mr. Abell's 5th Grade Class
©2012 Hank Fridell
Dad was a farmer, work, work, work
Mom taught me to can and cook
Canasta, Fox and Geese, playing Whist, too
Sisters and cousins we were quite a crew
I met Bill, such a caring man
Along came Brian, our family began
We took in foster kids, 41
Helping others, we had some fun
Chorus:
Caring, kind and full of love
That's what I'm made of
There for others when I can
I love being a helping hand
Joined 4-H in 5th grade
47 years as a leader I stayed
Sunday School, Auxiliary
And NAEOP
For the first ambulance, Spearfish's own
Bill and I we signed the loan
I'm an ambulance driver and EMT,
I'm happiest when I'm busy, busy, busy
Chorus
I've been the school secretary
It was the best job for me
Some kids just need a little love
That's what I am most proud of.
Be true to yourself, don't ever lie
Add almond flavor to your cherry pies
Work till the job you start gets done,
Do your best, make some fun
Chorus
Like my Mom I can and cook
Like my Dad I work, work, work
There's something that's grand to me
When Braiden calls me, "My Grammy"
Chorus

I was born in Baker, Montana on November 5, 1947, to Gerald and Betty Davis. I grew up on a farm in Bowman, North Dakota where we grew wheat and raised cattle, pigs, and sheep. My father was a farmer and my mother was a stay at home mom and helped on the farm. I learned my strong work ethic from my dad. He would say "you work until the job you start is done." My mom taught me how to can and cook, she also taught me the secret to making the best cherry pies. I have two younger sisters, Darlene and Geraldine. Darlene is a teacher at Spearfish Middle School and Geraldine lives in Sioux Falls where she is a stay at home mom and a CPA. I have always been an animal lover and currently have a Chihuahua named Charlie.
My first two years of school I went to a small country school in North Dakota. When I was in 3rd grade we moved to Spearfish. I spent my summers at the farm helping dad. In 5th grade I decided to join 4H. I was a 4H leader for 47 years. I was also part of Girl Scouts, FHA, and GAA. Growing up, our family was very close. I spent lots of time with my grandparents and other family members. When we would get together we would spend time playing games such as Canasta, Wist, and Checkers. When we didn't have something to do, we had to make our own fun.
When I was a freshman in high school I met a wonderful and caring man named Bill. Bill and I met square dancing. We dated throughout high school and got married just 10 days after I graduated. Bill and I had quite an adventure through the years. Bill worked for Homestake and was a police officer. He was also involved in the National Guard, fire department, ambulance service, and we were both EMT's. We also opened our house and hearts to foster children of all ages. We took in 41 foster children over the years.
My first job was as a car hop at Dog and Suds. I worked there until shortly after I was married. Since then I have had many great jobs but none as wonderful as being a school secretary. I was a secretary in the Spearfish School District for 35 years. I have also kept myself busy with many other things such as working with the Spearfish Fire Department and Auxiliary, teaching Sunday school, sewing, baking, counted cross stitch, and being involved in the National Association of Educational Office Professionals also known as the NAEOP.
I have a wonderful son named Brian and he has an amazing wife named Ashley. Together they gave me the greatest gift a grandmother could ask for, a grandson named Braiden. Braiden is the apple of my eye and nothing makes me feel better than when he calls me "my Grammy." Brian is a fire fighter, paramedic, and is involved in search and rescue. Ashley is a student advisor at NAU in Rapid City.
In 2010 I retired from the Spearfish School District. Since then I have been keeping myself busy enjoying my family and most of all, my grandson Braiden. Family makes life well rounded and I will always keep them close to my heart. I hope that I am remembered as a kind and loving person. If there is something that I want people to live by its "be true to yourself and don't ever lie."