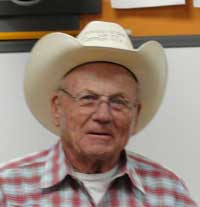 "The Wagon Trail Man"
Words and music by Leonard Running
with Mrs. Burke's 4th Grade Class
©2012 Leonard Running
Chorus:
Please, Jerry, could you give us a ride?
Horse and buggy and the stories you provide;
With a little South Dakota pride
Kate and Kelly pulling side by side.
You could take us to the countryside;
Or' round the block we'd be satisfied.
We could sit in back or beside;
Please give us a ride.
For Jerry Miles' long story short,
It all began two counties north.
He went to school; one room was fine
He drove a team when he was nine
Chorus
He ran motels, he ran gas pumps;
He cleaned a school and he pulled stumps.
When he retired he was not done
With living life or having fun.
Chorus
He got some wheels; he built his dream:
A buggy to hitch to his team.
Now every day's another tale
When Jerry's on the wagon trail.
Chorus
Chorus

Jerry Miles was born in 1936 at Lemmon, South Dakota. He grew up on a ranch with one brother and one sister. Being able to live in the same area while growing up was very special to Jerry. He enjoyed his grade school years while attending a one room school for grades 1-8. While there were no organized sports to play at this level, Jerry has many fond memories of recess and roller skating during these years.
Jerry's grandfather had a huge influence on his life and is considered his hero. Even though he lived five miles away, Jerry enjoyed spending countless hours by helping him. An occasional fishing trip made the memories of time with his grandfather especially memorable.
After his grade school years, Jerry attended high school at Bison and Lemmon. While in high school, he enjoyed his agriculture classes the most and looked forward to them each day.
After graduating from high school, college wouldn't be the next step in Jerry's life since Uncle Sam had another plan. Jerry was drafted and spent four years in the military. Those four years have special memories for Jerry as he was able to travel to places such as Paris and London. In true Jerry fashion, he has no regrets about serving his four years, but instead accepted the call to duty and served his country well.
Jerry's life was blessed when he married his German born wife, Edith. Together they have three children, Christel, Wes, and Stephanie. With the addition of grandchildren and a great grandchild, Jerry is quick to point out that life is great and his family is very close to his heart.
During his life, Jerry has had the privilege of working many jobs. He has been involved in ranching, operating a motel, gas station, and managing an apartment house, as well as an electrician, and school maintenance. As a matter of fact, we are holding this program at the school he so fondly took care of for fourteen years! Jerry is now enjoying his part-time tree stump removal business.
Knowing that his grandfather was always there to lend a helping hand to him, Jerry now continues that role in his adult life. He enjoys helping people, whether the need is big or small. Helping people makes Jerry happy.
Jerry has stayed close to his Western South Dakota roots. Settling in Spearfish was a perfect match for Jerry. He enjoys reading about the local history of the area he calls home. Taking in a good rodeo is perfect entertainment for Jerry. As he talks of his love of Spearfish, he is quick to tell you it is a great place to live as it is close to a lot of places, we don't experience severe weather, and it is just a nice place to live!
In his retirement, Jerry feels that he is living his "Bucket List." He is enjoying his love of wagon train rides and being a part of this important Western tradition. The memories of building his own buggy, and now using that buggy while on the rides, have a special meaning for Jerry. During the summer and fall, you will find him a part of many "rides." Jerry also told us to be responsible in our lives and used his own example of how he had to be responsible when he took his buggy and team through McDonald's drive through. Yes, you need to clean up after your horses in a drive through!
While Jerry taught us a lot about his life, he reminded us that we should always remember to respect our Elders.
Thank you, Jerry, for sharing your life story with us. Our lives have been enriched by knowing you.