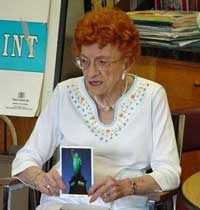 "Mama Lama"
Words and music by Susan Hove-Pabst
with Mrs. Hayes 5th Grade Class
©2007 Susan Hove-Pabst
(chorus)
Who's that redhead? Lola is her name.
She's "Mama Llama" and tennis is her game.
Who's that redhead, ready for some fun?
"Number, please." She's our number one.
In a hot August in Idaho,
Expecting to harvest a potato,
Along came a baby girl instead,
Miss Lola J. Thompson, redhead!
A country school in her early years,
Cats in the buggy and her dolls so dear,
Games like checkers and kick the can,
But in fear of the dark, to the privy she ran.
(chorus)
On a trip to Salt Lake, she floated with ease.
Later she lived there, winning spelling bees.
After Sunday dinner, 'round the piano to sing,
Being with her family was her favorite thing.
She became an operator, 'leven dollars was her pay.
She's head for the dances, come Friday.
Bruce Miller asked his brother, "Who's the redhead?"
In two and a half months, Bruce and Lola were wed.
(chorus)
Lola moved to Spearfish with her groom.
They lived above a fact'ry that made brooms.
They had an open market with veggies and more,
And later a theater and "Food Town" store.
They bought a ranch in 'forty-nine;
Raised four children during that time.
With poodles and llamas, Lola filled the homestead
Bought some paint and painted it red.
(chorus)

Lola J. Thompson came into the world on August 16, 1918, in Sterling, Idaho, population 15!! Her family raised potatoes. Her parents separated when she was only 5, so she and her 2 brothers and one sister were often separated.. They moved many times, living in Salt Lake City, and later in Deadwood, SD, in 1933. There, they lived in a furnished apartment for $25 a month.
In school, her favorite subject was spelling and she was good at it, winning 3 different spelling bees. Lola recalls that her favorite book as a child was "Rebecca of Sunnybrook Farm." She also had a special doll named Jolene that she still has today. It won't make a sound anymore, lost one sock and one shoe, but still sits in a favorite spot at Lola's house.
As a child, she loved to play kick the can, checkers and sing songs for fun. Some of her favorite times were singing around the piano after suppers on Sunday, and being together with her brothers and sister. She always loved pop music, and she loved to go to the Friday night dances in Spearfish. She even sang with her sister at the Friday night dances several times, in what is now the Tretheway Pavilion in Spearfish City Park.
As a young woman, Lola was a telephone switchboard operator, earning $11 a week. Gas was 10 cents a gallon then. When she married, they wouldn't let her work there anymore, but when World War 2 came, they asked her to come back to work. She was married to Bruce Miller on October 22, 1938. Bruce saw Lola with his brother at a dance, and asked his brother, "Who 's that redhead?" They were married two and a half months later. They were married 57 years. "It was rough at times, but we made it," she said proudly.
Bruce and Lola moved to Spearfish in 1941, and lived above a broom factory where the Shear Cut is on Jackson Boulevard today. Through the years, Lola worked at dress shops, and an open air market that she and Bruce owned. They also owned a Food Town grocery store, and the Vita Theater that was on Main Street, where admission was ten cents for kids and 30 cents for adults.
Lola and Bruce raised four children, Gary, Cheryl, Susan and Kevin. She now has 5 grandchildren, and 8 great grandchildren. Lola always loved to play tennis. She said, "We used to run after the balls, then later, we just walked to get them." She and her friend, Flora Lee, would get up at 6:30 in the morning, 3 days a week, and go play tennis at the City Park. Lola finally hung up her racket at age 85.
She also has llamas on her red ranch that is on the service road on the way to K‑Mart and has become known as Mama Llama by many who know her. Her daughter, Cheryl, now lives there and takes care of it.
When asked what were the greatest changes that Lola had seen through the years, she said that going to the Moon was really something, and then of course, airplanes, TV, computers and cell phones. Lola's advice to our class was, "Watch your diet, stay fit and stay away from drugs! "When asked what her funniest memory was, Lola said, I have a good one, but I can't tell it."
One of her favorite times was her trip to New York City and Washington, DC. She stayed in one of the Twin Towers exactly a year before it was destroyed. She is proud that she walked around the Statue of Liberty at age 84. Lola thinks everyone should travel when they are young, and see all the wonderful parts of America.