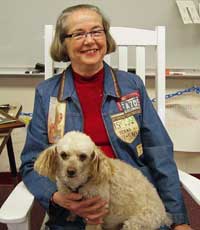 "Such A Sweet Sounding Name"
Words and music by Merlyn Aman
with Mrs. Christensen's 4th Grade Class
©2007 Merlyn Aman
Alyce Schavone, Alyce Schavone,
Ya da da da da da da da da da Schavone, Schavone,
Ya da da da da da da da da da Schavone.
In I-O-W-A, in Iowa, that is where she was born.
On a small farm, on a small farm. On a small farm she
was born in the year of nineteen twenty-seven.
Chorus
Alyce Schavone, We love the sound of it.
Alyce Schavone, Such a sweet sounding name.
Oh, oh oh, Such a sweet sounding name.
Oh, oh, oh, When she was five, goodness sakes alive!
Underneath the Christmas tree, a wonderful sight for her to see,
A doll, a doll!!!! (spoken) "She still… has it!"
Chorus
Can you imagine my childhood days? No TV,
No running water. No electricity. Only Aladdin lamps.
As well as, (spoken) "Well…OUTHOUSES!!!!
Chorus
She was built for fun, she says. She's a smart one too!
Graduated from college in nineteen fifty-one.
Doo doo doo doo doo doo wah doo
wah doo wah doo doot.
There she met Tony, jitterbuggin' Tony, Tony Schavone.
(spoken) "You know, her husband? Tony Schavone!" (GASP!)
In a box of Tony's favorite chocolates was her engagement ring.
Doo doo doo doo doot. Oh, oh, oh Alyce Schavone!
Chorus
Oh, oh, oh, she became a teacher and she loved the boys and girls a lot.
She and Tony looked around and Spearfish really hit the spot!
(spoken) "At first, Alyce thought: This is the LAST place I would
want to live! Tony announced the following week;
I got a job at Black Hills State University!!!"
She has loved it ever since that they packed up and moved to town.
Alyce Schavone, Alyce Schavone, She has loved this wonderful
town, the best move of her life!
Alyce Schavone, good music pleases her.
Alyce Schavone, she loves to climb Crow Peak.
Alyce Shavone, she loves her family.
She is a volunteer. She is a volunteer.
And here is her advice for all of us:
Enjoy life! Enjoy life! That does not mean all play!
Enjoy your work, enjoy your play, be honest, be happy.
Be sure to enjoy each day!
Chorus
Alyce Schavone, Alyce Schavone,
Ya da da da da da da da da da Schavone, Schavone,
Ya da da da da da da da da da Schavone! (shout) "SCHAVONE!

My name is Alyce Schavone and I am the youngest in my family. I was born on a small farm in Iowa in 1927. We lived there for about 3 years. While we lived on the farm, my father used horses for planting crops. He didn't like dealing with the animals so he bought all farm machinery, but then the Depression hit and he lost all of his machinery. This was when the stock market failed. Many lost everything. The country went broke.
When dad lost everything, we moved off the farm. Because we were so poor, we moved to Alabama to live and work in a mansion for my uncle. My uncle was in photography. My parents worked for him by taking pictures in schools. We didn't like it in Birmingham.
One of my favorite childhood memories was when I was 5 years old. We were VERY poor. One Christmas I wanted a doll and my brother wanted a watch. We always received 1 gift each. I remember my brother waking me up in the middle of the night on Christmas Eve and saying to me, "I can hear the watch ticking. I think Santa has been here!" Santa had put the watch on the tree and my brother could hear the ticking. We were both excited!
My sister, my brother and I graduated from high school at the same time. (My brother was drafted during WWII and my sister was only 4 months older than me because we adopted her from a family of eight.) We all graduated in 1946. My parents felt education was important, but they couldn't afford to send all 3 of us to college at the same time. My parents felt that my brother Alan needed to go to college to support his family. They felt my sister needed to go to college because she was handicapped and for me, I was built more for fun than for studying. I stayed and worked at home for one year.
Later, my parents sent me to a private University for 4 years. In college I met Tony Schavone! I met him in Bible Class in University of Dubuque in Illinois. Tony was not a handsome man; 280 lbs. but a very loveable and caring man! What impressed me the most about Tony was that he could dance. I wasn't allowed to dance until I went to college. He was a big man, but light on his feet!
To finish college I borrowed money from Tony and from the University of Dubuque. When Tony proposed to me, he gave me a box of his favorite chocolate candy‐Fannie May chocolates and my engagement ring was in the box of candy. When Tony proposed to me he said, "We can't get married until you pay me back, because it could ruin a beautiful relationship." We graduated in 1951, we dated for 3 years, I paid him back and then we got married in1954! 🙂
I taught 3 years in Iowa, 3 years in Illinois and 21 years in Lead.
The most exciting time in my life was when I married Tony because he spoiled me and when I gave birth to my son, Peter! And now I have a granddaughter named Toni!