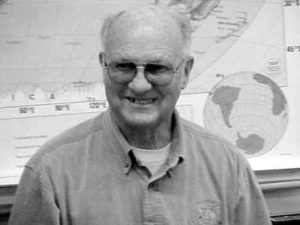 "You've Got to Wake Up, Ready to Go"
Words and music by Marianne Fridell
with Mrs. Damuth's 4th Grade Class
©2003 Marianne Fridell
Chorus
You've got to wake up, ready to go
Ready to shovel, cut and haul
Arne and work go together
For the Bull of the Woods, the tougher the better.
Then you smooth out your day with a harmonica tune
Harmonica Man let that harmonica croo-oo-oon
Your own special tune
You've got plenty of wind, plenty of air
And we swear, you're not losing your hair.
In the woods by Nemo, I gathered firewood
Mom threw it in the stove just as fast as she could.
I liked to keep the heat in that old house percolating
I slept in the cold room which was very motivating.
I had a '34 Ford that I named Shasta
We drove her all over, but she lasted.
I worked even harder after I bought her
Why Shasta? Shasta has gas, oil and water.
I tied the knot with Gae in 1950
After the Navy set this Seabee free.
Just 18 when I left to roam
And I found out that the Black Hills is my home.
"I do," that's what we said
The day we met, the day we wed.
"Happy 22" is the day we favor
Three children and seven grandkids later.
I was a lumberjack at the sawmill here
100 million board feet in a single year.
36 foot stringers on the Pig Tail Highway
The most logs cut on my retirement day.
Now we run a campground in Custer State Park
Gae and I love camping, it's such a lark
Sometimes the buffalo come in uninvited
I chase them away before the campers get excited.
And we swear, we know you care. You're one of a kind.
Thank you, Arne, and Happy 22 to you.

We could call our elder "Mr. Harmonica Man", "Super Volunteer," "Hard Work Harry," or "Bull of the Woods," but Arne says "Just call me Arne!" Ever since he was born, Arne worked hard and devoted his life to serving others, but managed to have a good time and make a lot of friends along the way.
Arne Koski began his "Sentimental Journey" on July 1, 1928, born the best friend the Black Hills and its people could ever have. He lived in a little white house in Nemo, SD with his two sisters and spent many winter nights trying to stay warm in the "cold room." (The heat from the stove didn't quite make it into the room!) His parents were Finnish, so that makes Arne 100% Finnlander himself! His parentswould speak Finnish when they "didn't want me to hear what they were saying!"
When Arne was in 7th grade he and his family moved to Spearfish. Arne had a lot of fun growing up in the Black Hills, ice skating in the winter, going to the swimming hole in the summer and hiking and biking all over. Math was his favorite subject in school, but as far as favorite foods, it's a toss up between pizza and pancakes! When he was in high school, WWII was in progress, so he and his friends (and some teachers!) would get out of school to pick sugar beets at farms north of town. It was good pay but hard work! In the summer, Arne would run the movie projector at the local theatre then he'd go to Belle Fourche and shovel coal out of train cars the rest of the night.
The high school years hold special memories for Arne. He enjoyed choir, basketball, track, football and the drum and bugle corps, and math was his favorite subject! He had about 6 real close friends and some are still in this area, though one moved to Wisconsin, and one was killed in WWII. Arne especially remembers how special May 1 was to everyone – the official beginning of fishing season! Back then, fishing season wasn't all year 'round like it is now, and there was nothin' like a day spent fishing!
Arne graduated from Spearfish High School in 1946 and enlisted in the Navy, but because he was only 17 years old at the time, wasn't inducted until his 18th birthday that same year. In the Navy Arne was in the construction battalion called the Seabees, and he spent time at a radar base in Greenland.
On August 22, 1950, Arne married the love of his life, and on the 22nd of every month since, he and Gae make sure to tell each other "Happy 22" in some very unique ways – sometimes a message on the mirror, flowers, sometimes a note in the lunch box, but always with a kiss and hug for each other. Check out their car's license plate – "HAPPY 22" is what it says! Arne and Gae's three children – Sheri, Bob, and Aaron, have blessed them with seven grandchildren whom they adore!
Hard work has always been a labor of love for Arne. He must have loved working hard, because he sure did it his whole life! By the time he retired at Pope and Talbot, he had earned the "Bull of the Woods" award for his years of service to the timer industry and also received a plaque for having cut 100 million board feet of lumber during his career! Serving others has been another labor of love for arena, and volunteering in community is something he and his wife Gae have done selflessly throughout their married life together. Whether it be church, school, or the Fish Hatchery, you'll see Arne lending a helping hand, and if you go to Custer State Park in the summer you'll probably run into him! He has been a volunteer campground manager for the past 8 summers there! Everybody loves to stop and talk to Arne–even the buffalo!
And when Arne isn't working hard or volunteering for something…Why, you'll probably find him playing one of his harmonicas from his amazing harmonica collection. Ask him to play you a tune! We'll bet he plays "Sentimental Journey!"