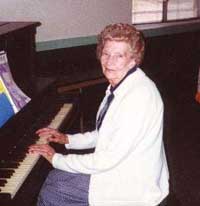 "Flora Lee"
Words and music by Scott Simpson
with Mrs. West's 4th Grade Class
©2002 Scott Simpson
Born in Faith in 1918, she lived by the Golden Rule
The family worked and played and grew till she went off to school
The winters were tough in that little house, she walked a quarter mile in snow
When the teacher let the children go, well she sang all the way back home
(chorus)
She has good friends for she is a friend
That's the way we all should be
Six kids, fourteen grandkids, five great grand kids
They all love Flora Lee
She kept the Spearfish cabins clean for about a buck a day
Made enough to go to teachers' school. She paid her own way
When she got her teaching certificate she got a job in Dupree
A one-room schoolhouse with eager kids and a stove so they wouldn't freeze
(chorus)
Piano, organ, old-time songs, music is her thing
Liberace and patriotic songs, she leads the senior citizens
In a fun and up beat band
She helps spread her happiness, across the land
(chorus)
Now she still plays tennis at 83 and bowls with friends for fun
When her 75th birthday came around, so did EVERYONE!
In 35 years of teaching she touched so many hearts
She changed so many lives, with her love of the musical arts
(chorus)
They all love Flora Lee!
WE ALL love Flora Lee!

On April 7, 1918 a baby girl was born on a small farm four miles east of Faith, SD. She was named Flora Emma Menzel after her parent's dear cousin Flora and Aunt Emma.
Flora remembers playing house with a young neighbor girl, taking piano lessons from her mother, and trying to join the games of her three brothers: Robert, Lewy, and Frederick. Her biggest fear during her childhood was the SNAKES in the pasture.
At six, her family moved to Dupree. She walked to school on even the most frigid of winter days. Flora enjoyed school, but found that her real passion was music. She recalls that one day while waiting for her father after school, she sang. "My singing must have been really bad" said Flora. "My father thought I was crying!"
After graduating, Flora moved here, to work as a cabin‑cleaner, making $25 a month. She saved enough to pay the $35 tuition for Teacher's College.
Flora graduated and dedicated 35 years of her life to teaching. Most of that time, she taught music. In fact, she was presented with the Silver Staff Recognition Award from the SD Music Education Association for 35 years of distinguished service to young people and devotion to music education.
Flora enjoys spending time with her 6 children, 14 grandchildren, 5 great-grandchildren and dear friends. At 83 she continues to be active, she bowls, plays tennis, cards and volunteers in the Spearfish Senior Citizens band. She loves to travel. Of all her travels her favorite trips were to Las Vegas where she saw Liberace perform, and her trip to Hawaii for her 40th wedding anniversary.
When asked to give our class advice on life, Flora offered the Golden Rule: "Do unto others as you would have them do unto you." She also reminded us that to have friends, we must first be a friend. And above all, Flora reminds us to smile‐‐happiness is contagious.
Flora is a South Dakotan who has offered her life to the education of our state's youth, one who has followed her dreams, and is living life to its fullest.