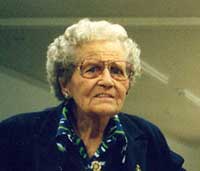 "Grandma's House"
Words and music by Leslie Speirs
with Mrs. Dahl's 5th Grade Class
©2001 Leslie Speirs
Wilma Knutson
(chorus)
I wanna go to Grandma's house
It's the place I love to be!
Feelin' happy, safe and free
Cookies and mile are always waitin' for me at Grandma's house
Born in a sod house near the reservation line
Lived with her grandmas, one gave money and the other gave time
Slept in a bathtub when it was too cold
Lived through hard times, traveled in a house on wheels we're told
(chorus)
At the age of twelve moved to Spearfish town
Soon raised a family, then raised grandkids the second time aroung
She's a Girl Scout grandma! loves to work with kids
Started Camp Friendship. 'Lotta kids are better off for what she did
(chorus)
All her life she's given back from what her grandma's gave
Through the chain of family our best memories are made (chorus)
You can feel you have a friend at Grandma's house
Wilma Rummins Knutson was born on September 16, 1916 in a sod house near Eagle Butte. She has seen many changes over the years, and has personally gone through very hard and very good times. Some of her life will be shared tonight as we honor her.
She recalls one event at the age of four when she decided she wanted to take her baby sister and a couple of younger cousins to go see her grandma. They began the 10‑mile walk along a country road. Her uncle who was on horseback noticed the tall grass moving and rode over to see if there was a pack of dogs nearby. Of course the kids were rescued and returned with Wilma walking behind his horse all the way home.
During her early school years, Wilma lived in town with one grandma or the other during the school year because her parents were farming and later worked for the Diamond A Cattle Company. One grandma spent time with her making dolls, creating crafts such as Valentines, and playing paper dolls. One grandma owned a livery barn and paid her for pumping water for the cattle or doing other chores.
In 1927, Wilma and her younger sister rode atop all their belongings that were loaded on a Model T Ford as the family moved to the Black Hills. They used to hear "Seven come eleven" because those were Wilma and her sister, Mary's ages when they wintered by Spearfish Creek in the Cook's Wagon that her mother worked from. She attended upper elementary grades at Black Hills Teachers' College Lab School.
After graduating from Spearfish High School in 1934, Wilma attended Black Hills Teachers' College for three years. She taught in rural schools until heading to Hanford Washington to work on the "'A" Bomb during World War 11.
At the end of the War, she returned to the Black Hills where a former boyfriend looked her up and asked her to marry him in 1945. She shared talents and projects learned from her grandma while raising three children. Her ability to make puppets landed her in the position of Girl Scout Leader for her daughters' and friends!
She later returned to college to complete her Special Education Degree and started Camp Friendship 26 years ago this year. She lives in Redwood Apartment now and still does volunteer work today!
Wilma Knutson has added our class to her list as we now call her "Grandma Knutson." Grandmas influence each of us through the years, and we are proud to know this special grandma as well as our own.