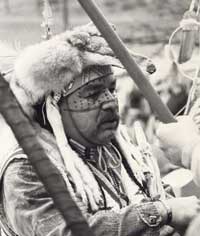 "Wakinyan Akicita"
Words and music by Scott Simpson
with Mrs. Little's 5th Grade Class
©2001 Scott Simpson
Sam DeCory
Purple Hearts for the wounded brave
He'd give them all his fallen friends to save
Hear the stories Grandmother told
Life on the prairie in the days of old
Wakinyan Akicita
War chief who will never fall
Purple, yellow, red, black, and white
A walking stick and a prayer in the night
Parched corn and a game upon the field
Laughter is the medicine that heals
Isnala Wakan Inajin
He's the Clown Man, come laugh with him
So many names, so many friends
In war, in life, the spirit never ends
A time to laugh and a time to die
A time to live and and time to fly
Wakinyan Akicita, War chief who will never fall
Isnala Wakan Inajin, He's the Clown Man, come laugh with him
Wakinyan Akicita, War chief who will never fall
Isnala Wakan Inajin, He's the Clown Man, come laugh with him
I have many names.
I am Wakinyan Akicita, The Thunder and Lightening warrior.
I am Isnala Wakan Inajin, The Clown Man.
But my friends call me Sam.
I grew up on the reservation. I lived with my Grandmother.
I remember the Lakota stories she told in the evening.
I had a happy childhood, playing games and riding horses.
My grandfather was very strict.
When we didn't do as we were told, he caught his wildest horse.
Then he tied us on and hit the horse with a quirk.
We learned to mind, and we learned to ride!
I went to St. Francis Boarding School when I was about 8.
They cut my hair, deloused me, and took my native clothes.
If I spoke a word of Lakota, I had to kneel on a rod.
I learned to speak English, and I learned to play football.
I was known as Systematic Sam because I never missed a field goal.
I went to college on a football scholarship.
I have 5 purple hearts from being wounded in battle.
But I'd give all those medals back if I could have my friends back.
Too many people die in wars. I fought in Korea and served four tours in Viet Nam.
I was shot in the knee and the back, but a rifle launched Grenade blew up in my face, so I have fake cheekbones.
My grandfather, Fools Crow, named me a war chief because of my battle
record and the way I stand up for my people. My people have many traditions.
We honor our elders, and those who have passed into the spirit world with Pow
Wows.
We have a Sun Dance when we fast and dance for four days and four nights.
I am most proud of being sober. It is the hardest thing I've ever done.
I have a wonderful family, and they mean the world to me.
I'm proud to be an American.