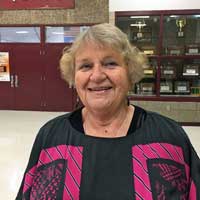 "Ida"
Words and music by Scott Simpson
with Mrs. Haugland's 4th Grade Class
©2017 Scott Simpson
Born in Yankton
October 14th—a bit Norwegian
Lived life in the South Dakota region
Loves steak and goulash, even lefse
Lutefisk and nachos…
Farm livin'
Chickens, pigs and cows and a big Thanksgiving
Turkey, minced-meat pie and lots of dressing
Mary Ingalls Wilder, Hiawatha
Kick the can and King of the mountain…
Chorus:
Oh, Ida… she's a catalyst for keeping your
Eyes…OPEN… and your ears too!
Oh, Ida… says Question! Check "Snopes"
I'm… thinking to find out what's TRUE
Don't assume!
In a one-room school house
With a big wood heater and an out house
Encyclopedias, and no computer mouse
Girls chose "either teacher or a nurse's blouse"
She's glad it's different now!
USD!
Home economics is her degree!
Lived or worked in sixteen counties!
Thirty-seven years enjoying teaching
4-H and adults with needs…
Chorus
In Bison she and Don got hitched,
Eventually they got "Spearfished,"
Their daughter Alice brought them bliss,
Now an occupational therapist!
Zonta and Harvest Hop,
Festival of Trees—she doesn't stop!
Clothes for kids—from hats to loafers
Trips to cheer the Golden Gophers!
Chorus
Oh Ida…
Oh Ida…
Oh Ida…
Oh Ida… Find out what's true!

Ida Marie Snortland was born on October 14, 1942 in Yankton, South Dakota and is celebrating her 75th birthday this year. Happy birthday Ida! Ida and her brother Jack grew up on a farm with her parents, Freyola and Ralph Norton. Her mother, Freyola, graduated from the University of South Dakota, and was a teacher until she had children, and her father, Ralph, was a farmer raising cows and chickens.
Ida enjoyed working with her family and playing outside. "Kick the Can" and "King of the Mountain" were some of her favorite childhood games. Ida attended school in a one-room school house and loved reading books, such as: the Laura Ingles Wilder series and Hiawatha.
Ida pursued a degree in home-economics at the University of South Dakota. When her mother passed, Ida took on this nurturing role and helped raise her brother, Jack. That role has truly influenced Ida and her desire to build valuable, long-lasting relationships to this day. As an educator for 37 years, Ida has worked in over 16 counties with 4H and adults with needs. She played an important role for the youth of South Dakota providing them opportunities that they may not have had otherwise living in rural communities. Ida is part of a generation that fought for it all and valued a career as well as motherhood. As a full-time working mother, she helped open doors and inspire other women too.
Ida met her husband, Don Snortland in Bison, South Dakota and were married in 1977. They have a beautiful, energetic, and kind-hearted daughter named Alice, who is an Occupational Therapist in Minneapolis, Minnesota. Together they enjoy attending the University of Minnesota Gopher games, spending quality family time, and traveling. Ida and Don have taken several cruises to Alaska, the Northeast, Panama Canal, and the last one to Norway with Alice!
As an active member of the St. Joseph's Catholic Church, she is part of the altar society and volunteers at the Good Shepherd Clinic here in Spearfish. Ida is a member of the Western South Dakota Community Action Program. This organization makes a positive impact by suppling those living in poverty with resources and assistance necessary to overcome these conditions. As an active board member in the nonprofit organization Zonta, Ida works to support the needs of women and children in Spearfish. In addition, Ida is a board member of the Butte/Lawrence County Fair, member of the National Association of Family and Consumer Sciences, and the National Extension Association of Family and Consumer Sciences. Here in Spearfish, Ida is a Medicare Navigator and provides our community members with knowledge and benefits of the Affordable Care Act. How she gets it all done, we will never know!
Along with her involvement in the community, state, and professional organizations, Ida enjoys gardening, quilting, sewing, cooking, and reading. Ida still has a thirst for knowledge, and desire to learn. She loves to make things for others and supporting her family, friends, and community. Ida is a selfless woman who puts others before herself. When you are with Ida, you feel loved and protected. Whether it is her time, advice, or presence, Ida is a remarkable woman who inspires us and others. We appreciate all you do Ida and are so lucky to know you!