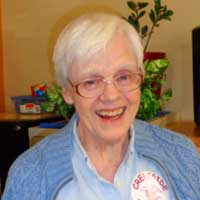 "Molly Frawley!"
Words and music by Scott Simpson
with Mrs. Damuth's 4th Grade Class
©2016 Scott Simpson
Molly Frawley! Molly Frawley!
She was born 'n San Diego But South Dakota is home.
Her dad was a Navy Man,
World War 2 brave, he ran
Up to the hospital 'n Navy dress blues
There was his Molly
Her tonsils out, Golly-
Gave her a transfusion 'n saved her life too!
Molly Frawley! Molly Frawley!
She loves games and playing And South Dakota is home.
Paper dolls and roller skates
Hopscotch, she couldn't wait
To go outside and play with her friends.
Oscar, her puppy,
A friend growing up, he
Prepared her for dogs on the ranch she would tend.
Molly Frawley! Molly Frawley!
Went to school out in D.C. But South Dakota is home.
Her school was a tough one
But she learned a lot from
The Sisters, the homework in her sharp uniform
Brother Denny played links
Got famous- which stinks
Cause Molly shot hoops, as "Denny's sis" she'd perform.
Molly Frawley! Molly Frawley!
Moved out to the Ranch Now South Dakota is home.
After years of teachin'
And Vale ski instructin'
Then Hank brought her home in '78
Her son Mike was born here
Gave her Bennet and Conner
The Frawley Ranch family is known 'cross the state!
Molly Frawley! Molly Frawley!
Friend giggles and walks, South Dakota is home.
She's quiltin' and paintin'
And mem'ry-box makin'
And books are her love 'long with travelin' and church
Just "Do unto others…"
Tend to fathers and mothers,
Respect all that's living and put kindness first!
Molly Frawley! Molly Frawley!
She was born 'n San Diego Went to school out in D.C.
Moved out to the Ranch
For friend giggles and walks…
Molly Frawley! Molly Frawley!
We get to eat her fine cookies
'Cause South Dakota's her home!

Molly Bolster Frawley was born in San Diego, California in 1938. Her dad was an admiral in the Navy and one of her memories as a child was when her dad was in uniform and ready to board the ship to go to war, but had to rush to her hospital bed to donate his blood and give her a transfusion!
Molly was the youngest child of four children, and had two older brothers and one sister. Molly remembered them calling her a brat!
Though we know her as "Molly" her real name is Mary. Her dad had a favorite aunt named Molly so her dad called her that instead of Mary and the name stuck.
While at Catholic school in Washington, D.C., Molly had a 4th grade teacher called Sister Tomasina. She said the nuns were very strict but she learned a lot! Math was her favorite subject in school. Winnie The Pooh was her favorite storybook. Molly loved to roller skate, play hopscotch, paper dolls and playing with Oscar, her dog. She liked playing basketball but Molly didn't get any respect as a player because her brother Denny was a golf star and she was always known as "Denny's younger sister!"
Molly graduated from college and her first job was a camp counselor, then she became a ski instructor in Vail, Colorado and enjoyed teaching kids to ski! She really loved that job! Later she taught elementary school for 13 years!
Molly met the love of her life, Hank Frawley, and they married in 1978. So she moved to South Dakota to live and work on the ranch with Hank. This was a BIG change for Molly after living in the city! Soon Hank and Molly were blessed with their son, Mike. After Mike left home to get married, he and Jen gave Hank and Molly their two beautiful grandchildren, Bennet and Connor. They are the joy of Molly's life!
Of all the places Molly has traveled to in her life, she said that Denmark was her favorite. She even hosted a foreign exchange student from Denmark in their home. Molly also worked for a short time as a secretary at the old East Elementary in Spearfish!
Molly has many talents that she shares with our community. One of them is painting memory boxes for hospitals to give to mothers and fathers who lost their children. Quilting and painting are also among her many talents. But the one thing Molly does best is baking delicious cookies for us to eat! YUM, YUM!!!
Molly's favorite music was listening to oldies but goodies, and her very favorite song was "Molly Malone." She told us that her favorite movies were old John Wayne movies and also Top Gun and Star Wars. We thought that was cool! Some of her favorite foods are steak (imagine that!) and chocolate and shrimp!
Some significant changes she has seen in her life is television, which came out when she was 12 years old, and moving from the bright lights of the city to the rolling prairies and beautiful hills of rural South Dakota.
Besides coming to help us with our schoolwork, Molly gave us some of the best advice. She told us to study hard and get good grades, and to take our school work seriously. And more important than anything, she said to always be kind, show respect for life, and follow the Golden Rule.