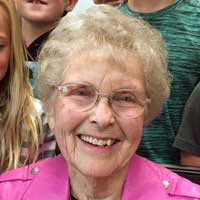 "I've a Wonderful Life"
Words and music by Hank Fridell
with Mrs. Scharf's 5th Grade Class
©2016 Hank Fridell
I was born in '31
A ranching girl, the prairie sun
Duck-duck-goose, we would play
A country school till the 9th grade
At 13, alone, I moved to Pierre
Midland had no high school near
Went to Black Hills, a teacher to be
And after a summer that teacher was me
Chorus:
I'm so thankful for my health
My customers, my family
I wouldn't change a thing, so happy
I've a wonderful life
I met Vince at a Beulah dance
He's the one, just one glance
Ranching, horses, raising steers
The Crago Ranch for many years
Have three boys, now they're grown
Still on the ranch, on my own
Great-grandkids on my family tree
I'm grateful what they've given me
Chorus
In '77 we bought a store
Selling dresses my customers wore
40 years, 6 days a week
My customers they're so sweet
Dolls, pink fentons, bells to show
Birdhouses, china, my collections grow
In my garden many hours
With pink roses and my flowers
Chorus x 2

Margaret Crago was born September 3, 1931, in Midland, South Dakota. Her parents were Ralph and Ann. She was raised on a ranch and went to a country grade school, called Robs Flat School, with about ten other classmates. Some of her favorite games to play were Duck, Duck, Goose and Field Day. Some of her favorite memories of country school were the Christmas programs.
When she was 13 years old, she went to Riggs High School in Pierre, SD. While attending high school, she lived with different families and worked for room and board. After graduation, she wanted to be a teacher. She went to summer school at Black Hills Teachers College and landed her first job near Phillip. She did not own a vehicle, so she lived at the school. She earned approximately $40.00 per month. Margaret went to summer school for a second summer and taught one more year. She was very close to her students and has kept in touch with many of them over the years.
In 1951, Margaret moved to Spearfish and met her husband Vince at a dance in Beulah, WY. Vince was a rancher, and they dated for about a year. She knew right away he was the one for her. After getting married, they lived on the Crago ranch which has been in the family for 129 years. They raised cattle and quarter horses. They raised three sons, Bruce, Ralph and Chuck. Margaret enjoyed watching her sons play football and wrestle. She said all three boys are good to their mother. She and Vince were married for 55 years. She now has 11 grandchildren and 20 great grandchildren who live close-by.
Margaret was active in South Dakota Cowbells and was their president in 1972. She traveled a lot promoting beef. In 1977, she purchased LaMode Dress Shop in downtown Spearfish. She has owned and operated the store for about 40 years while working 6 days a week from 9-5. She supervises two employees. Margaret loves to help other people especially her loyal customers.
She was honored in 2003 in Spearfish when they proclaimed March 3rd as Margaret Crago Day. In 2009, she was named the Business Associate of the Year from Spearfish Business Women's Association. In 2014, she was a finalist for the South Dakota Retailer of the year.
One of Margaret's favorite things to do is to work in her flower garden. Her favorite flower is the pink rose. She enjoys collecting birdhouses, bells, and pink fentons. She also has a huge collection of dolls with over 100 on display at her dress shop.
Mrs. Crago stated she has been very fortunate in life. She said she has so much to be thankful for. She has no plans to retire and loves what she is doing. When asked what advice she had for young people today, she advised them to support their parents and always be good to them.