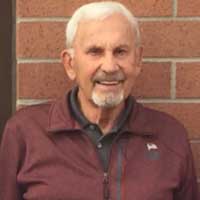 "Fun and Games"
Words and music by Leonard Running
with Mrs. Reiners's 5th Grade Class
©2016 Leonard Running
For this little tale we're spinning we should start at the beginning
In the wintertime of nineteen thirty- three;
Bill Hughes' father and his mother brought a bouncing baby brother
To the other members of their family.
They left Bismarck, North Dakota for the plains of Minnesota
And Bill went to a small one-room country school;
There he found that his ambition and some friendly competition
Were his mission and his lifelong learning tools.
Chorus:
Winning's not enough;
It's more than being tough.
There's more important stuff
for boys and girls.
It's not all fun and games;
It takes a heart and brains
To make a little change
in this big world.
Young Bill had adventures plenty through his teens and early twenties;
Joined the Air Force and he learned to write in code.
Went to college where he majored in the subjects he most treasured;
Came to Spearfish; taught in high school where he showed
With a little bit of coaching wrestlers learned that there was no thing
That a person could not do if he just tried.
Then he met Linda Novotny; it's too hard to rhyme Novotny
So she changed her name to Hughes to be his bride.
Chorus
With his Phys.Ed. skills and knowledge
Bill went to Black Hills State College
From a Spartan to a Yellow Jacket name;
His success was comprehensive –
– wrestling and football defensive
And was voted into several Halls of Fame.
Bill and Linda now are ticking
off their list of bucket kicking
And they're giving back to Spearfish every day.
With a kind recommendation for a first-rate education
At his grandkid's graduation Bill might say:
Chorus

Bill Hughes was born in Bismark, North Dakota, on February 20, 1933, to William and Margaret Hughes. He grew up with 3 sisters, Jeanette, Patricia, and Marsh, and 1 brother, James. When Bill was 4 years old, he and his family moved from North Dakota to Minnesota. He spent his first 6 years of elementary school in a rural school. Although he always enjoyed school, he also liked to add a little fun of his own! Whether he was capturing snakes and swinging them at the girls or munching on wild onions before saying an extra close, "Hello!" to his friends, he kept his classmates and teachers entertained.
When he reached high school, he participated in just about every sport he could which included football, baseball, and track. His high school didn't yet offer wrestling, so he would have to wait a few years before he would be able to enjoy what would eventually be the sport he was most passionate about. While in high school, his typing and bookkeeping teacher recognized that he would make a great educator, but after graduation, he decided to go a different direction first. Bill enlisted in the Air Force where he was involved in monitoring communication. While he was in the Air Force, he was able to travel a lot, and he especially enjoyed his time in Germany when he got to travel all over Europe and the British Isles.
His final stop was here in Spearfish to attend Black Hills State University where he would eventually receive his Physical Education/Recreation degree. Spearfish High School hired him as a teacher and a coach, and they were glad they did! He started out as an assistant wrestling coach, and when he took over as the head coach, his teams continued their wrestling tradition by winning the state championship three years in a row and were runner ups the next year! It was here at Spearfish High School that he met his future wife, Linda Novotny, who was also a teacher, and the rest is history. They were married in 1961.
In 1965, Bill joined the staff at Black Hills State University where he was an instructor and coach. During his years at BHSU, he coached wrestling, golf, football and baseball. He had four South Dakota Intercollegiate Championships and coached 39 SDIC wrestling champions. He was a Rookie Coach of the Year nominee and won the NAIA District 12 Coach of the Year in 1970. While coaching football, he was the defensive coordinator and assistant coach, and his golf team won the District 12 Championship in 1982. He has been inducted into the South Dakota Wrestling Coaches Hall of Fame, the NAIA Wrestling Hall of Fame, the Spearfish High School Hall of Fame, the Black Hills State University Yellow Jacket Hall of Fame, and he was recently awarded the Black Hills State Special Service Award this past fall.
Bill retired in 1994, but we think Bill is even busier now! He is a member of the Black Hills State Yellow Jacket Foundation, the American Legion where he is the athletic officer and the founder of the Bill Hughes Invitational Baseball Tournament, and he is involved in various other civic organizations. He is also an active member in St. Joseph's Catholic Church, the Knights of Columbus, and the BHSU Campus Newman Center.
Bill is extremely thankful to have been able to be a part of the many lives he touched as a coach. Watching his former athletes grow into responsible and successful men, and having them keep in touch year after year is something he is extremely proud of. His biggest source of pride, however, is his family. Bill and Linda have been blessed with four children, Doug, Dave, Theresa, and Bill Jr., and eleven grandkids. While he has accomplished so much in his life, he says the one last thing he would like to cross off his bucket list is to be in the gym when his last grandchild graduates.