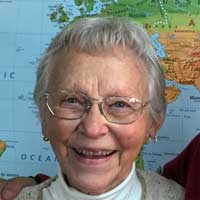 "Marilyn's Great Big Quilt"
Words and music by Hank Fridell
with Mrs. Gillespie's 5th Grade Class
©2015 Hank Fridell
A farm girl, no 'lectric or phone
Pet chickens, did chores of my own
Loved Christmas, always got a new dress
California dates, they were the best
In school, I liked to read
Loved Science, typing wasn't for me
A nurse, I had to be
Comfortable patients, what I wanted to see
Chorus:
Oh, My Goodness, sewing blocks, a pattern built
Oh, My Goodness, piece by piece, a story's built
Our lives, a great big quilt
I met Ron, came to Spearfish town
A principal and nurse, work we found
Five children, they were quite a crew
26 grand and, great grandkids, too
Went camping, had many old cars
Visit family now, near and far
In church, I've helped where I can
Guided by how we treat our fellow man
Chorus
Retired to travel, the world-what fun!
36 countries, shopped in each one
Loved the Amazon, Hong Kong far away
The view of the Alps and, gorgeous Norway
Liked the cruises, the food and plus
I'd find new friends, on the tour bus
But best of all, after we would roam
I would love returning home.
Chorus
Our lives, a great big quilt X3

Marilyn Rosenau was born January 11th, 1932 on a farm in Nebraska. She had no siblings, just her mom and dad. She always had a dog and several cats that lived in the barn. She went to a country school and the teacher usually stayed at her house. Usually she and her teacher would walk a mile and a quarter to and from school and sometimes when it was very cold, her dad would hitch a team of horses to the wagon. She wouldn't know if he was picking her up because they didn't have a phone, or even electricity!
Marilyn went to high school at Fairfield, Nebraska, and only had 14 kids in her class. She loved the football games, the bonfires with roasted hot dogs, and got to travel to Lincoln, Nebraska to perform a one act play. She enjoyed school and got good grades. Darlene was her friend from church and she still writes to her.
In '49 at age 17, Marilyn went on to nursing school in Hastings. Since she was a little girl all she ever wanted to be was a nurse. She often wondered where she got that idea. She married Ron in 1953 in Glendale, Nebraska. That's when she finally got her first car, a 1932 model A. They had five kids, Kathy, Becky, Ronald Jr, Randall, and Richard. She mostly stayed home to raise the kids because she did the math: her babysitter would make more money than she could have made! In '69, they moved to Spearfish. Marilyn was an RN at the Dorsett Home for 21 years.
The Rosenaus went on many family camping trips. They went to the World's Fair in Montreal, Canada. It was late at night when Randall ran ahead and hopped on the train. The door quickly closed and the train took off, leaving the other 6 family members behind. Luckily a security guard helped him return after midnight. So they could say they lost a son for a day!
Marilyn is a traveler. She has been to 36 countries and 48 states. Her favorite scenery is in the Swiss Alps, but she and Ron always said if they could live anywhere else, it would be Norway. So very gorgeous! In Thailand, she rode an elephant to get to a hill tribe. Most of their travel memories are very good. In Moscow, they even traded for rubles on the black market.
Marilyn's biggest adventure was on the Amazon River. She fished for piranha and even ate the bony, but delicious fish. The villagers were healthy probably from eating wild bananas and melons. Marilyn loved the big, blue butterflies, but there were also plenty of mosquitoes. They brought old garden shoes and after trudging through the muddy rain forest, if you didn't want to bring the shoes home, the local people liked them.
Marilyn's five kids have given her 14 grandchildren and 12 great grandchildren. Her hobby is quilting and she has made a large quilt for all her grandkids, plus many more. She finds the challenging quilt patterns the most enjoyable.
Today, Marilyn continues to travel to visit family all over the country. Her advice is to study hard, get some kind of education beyond high school, and enjoy your school time.