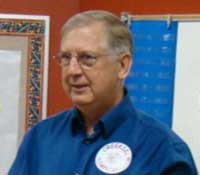 "We Believe in You"
Words and music by Marianne Fridell
with Mrs. Janvrin's 5th Grade Class
©2013 Marianne Fridell
Just above the boot heel of Missouri, my family ran the Dexter pharmacy
Old-fashioned soda fountain, a favorite place to sit
When a girl I fancied sat at the the counter
I'd slip her a coke and hang around her
Dad said, "Son–you're giving away the profits.
Always been a daydreamer, always been a jokester.
And usually, that means the joke's on me.
I had a wacky dream. I flew like superman.
Now love for family is where I land.
Father and mother sang in the Baptist choir. Dad's beautiful baritone inspired.
Music was always there, everywhere I'd go.
In 7th grade my voice changed
From soprano to a deeper range.
A skinny kid with a voice for radio.
Always been a daydreamer, always been a jokester.
And usually that means the joke's on me.
Skinny kid lifts half-ton barbells
And does it very well.
Hooked on the stage and making people happy.
Chorus
Be passionate in whatever you do. Always do the best that you can do.
So many say, "You made me believe in myself."
Now we say, "We believe in you."
There's one thing that I knew for sure. I knew that I would never be a teacher.
I've been a teacher all my life. It's been a joy in my life.
Even in this interview, I taught you conducting and other things, too.
Never say never, that's my advice.
Always been a daydreamer, always been a jokester.
And usually that means the joke's on me.
As the scarecrow in Oz
A dancing monkey-munchkin made me pause
And ask, Who IS that? The response, You'll see.
Sometimes life will bring you disappointment
Then you do your best to turn it around.
Celeste and I were newlyweds
When the doctor at the draft board said,
"You and your flat feet are Viet Nam bound."
Always been a daydreamer, always been a jokester.
And I'll tell you it's always helped my through.
Now I'm curious to see
What my grandkids grow up to be
While they grow I'll hike the Hills
and maybe even sail through the Greek Isles.
Chorus

Steve Parker was born in Dexter, Missouri on November 19, 1943, to Archie and Virginia Parker. He has one younger brother, Michael, whom he still talks online with everyday. Growing up, music played a large role in the Parker family. His parents sang in the church choir, and Steve mentioned that he wanted to sing just like his dad.
Steve's first job was working in his dad's drug store for 50 cents an hour. He loved working there and shared with us that he can STILL name all the flavors: vanilla, chocolate, chocolate marble, black walnut, butter pecan, cherry vanilla, and banana. Steve was very generous while working at the drug store too. He used his earnings to buy presents for his parents, but gave free cokes to people he liked, and free milkshakes to his girlfriend….until his dad found out.
Steve always tried to be a good boy for his parents and teachers, and did a good job most of the time. However, once in first grade, his teacher slapped his hand for dropping his winter gloves in the wrong spot. Needless to say, he was very embarrassed. Steve was a daydreamer too. In fact, he wanted to fly just like Superman. He was also a jokester. He once entered a talent contest as a weight lifter with boxes as dumbbells, and a broomstick handle. He liked drama and enjoyed making people laugh.
In high school, Steve's size hindered his chances on the football field, so he settled for team manager instead. He loved swimming, tennis and golf, but unfortunately, there were no teams in the small town of Dexter. Throughout high school, Steve excelled in band and choir. The boy's quartet he belonged to even won a state contest in Missouri.
After high school graduation in 1961, Steve went to college and with his father's encouragement, began studying to be a pharmacist. However, while there, he discovered that he really didn't care for chemistry, but was interested in music and psychology instead. With no plans of ever becoming a teacher, Steve graduated from college in 1965 and applied for graduate school. However, fate had something else in store for him.
After reluctantly accepting a job as a K-12 choir director in a small school, Steve discovered that one should "Never say Never". During this time, he enjoyed working with his students, and realized that as a teacher, he could truly make a difference. Of his 43 years as a music teacher, Steve spent 27 of them at Black Hills State University. He taught choir, music appreciation, vocal classes, and conducting techniques. Throughout his time at the university, Steve had the opportunity to take some of his students to Carnegie Hall in New York, and completed 15 European tours as well.
Even though Steve had to learn to play many musical instruments in order to teach them, he shared with us that the voice is his favorite one. He explained that the vocal cords vibrate and present a sound that we can beautify by changing the space in our mouths and throats.
Although Steve had a passion for teaching, he was even more dedicated to his family. He fell in love with Celeste during an audition for "The Wizard of Oz" in college. He was the scarecrow, and she was a dancing monkey who caught his eye. They were married two years later, and have been together for 47 years. Steve commented, "We are a pretty good team!"
As newlyweds, fate had a surprise in store for them. Steve was drafted into the Navy. He was hoping his flat feet would keep him from having to go to Vietnam, but no such luck. Steve was ordered to leave his new bride in the states while he headed to Vietnam. Although he was thrown into some dangerous situations, he never had to fight and to this day remains thankful for that.
Steve and Celeste have two children, Andrea and Greg who have made their parents very proud. Andrea, a professional dancer, runs the Black Hills Dance Center for Ballet, Tap and Jazz here in Spearfish, while Greg has a PhD in biochemistry, and lives in southern California. He is an excellent cyclist, surfer and rock climber, and his work keeps him busy as he tries to help find a cure for cancer. Music has played a role in each of their lives as well. Andrea participated in choir and played the flute, while Greg played the drums and saxophone. Steve and Celeste also have two talented grandchildren. Eleven year old Elise can dance just like her Aunt Andrea and Grandmother; and Aden, who is 13, is an amazing skateboarder.
Having lived in Spearfish longer than he's lived anywhere else, Steve has no plans to leave. "This is home," he shared. Now that Steve is retired, he continues to teach private voice lessons at BHSU and is a current member of the Rotary Club in town. His hopes for the future are to watch his son find a cure for cancer, and he is eager to see what his grandkids accomplish. He also told us that he plans to visit the Greek Islands. Also, with Steve's passion for the outdoors, you might find him on a warm, summer day fly fishing for trout, or even enjoying a hike in our beautiful Black Hills. One thing is certain though, no matter what Steve may choose to do on any given day, you will always find him taking his own advice, "Don't waste the day" and "Do the best you can whenever you have a chance."