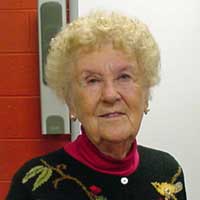 "Flying High"
Words and music by Hank Fridell
with Mrs. Reiners's 5th Grade Class
©2013 Hank Fridell
Hang by my heels, way up high
You can almost touch the sky
Books take me to another land
Come, take my hand
What I do, it's from the heart
My mind's working, from the start
Never stop, learn, learn, learn
Knowledge at every turn
Chorus
Flying off to see the world
Flying high a trapeze girl
There's so much for us to see
My friends, my family
Set my goals, make a plan
Research where I want to land
So much I want to know
Omelets wherever I roam
Playing bridge, I keep in touch,
Give a call, go have lunch
Let them know that I care
Listen to what you have to share
Chorus
Tell the truth, the way to be
Not about the money
It's not things that I need
You are important to me
If what you love you cannot do
There's more for you to do
I do something every day
Volunteer, piano and pray
Chorus

Mary Ann Kortmeyer was born on August 15th in Parkston, South Dakota, to Martin and Margaret Carmody. Her parents have always been a great influence on her life and their beliefs and values continue to inspire her today. Her father had a strong philosophy of hard work and showed her the importance and dignity of always doing the right thing. Her mother was a piano teacher and passed her love of music on to Mary Ann, who still continues to play the piano. She grew up in a strong, Catholic home with 2 sisters, Elaine and Carlene and 2 brothers, John and Willy. They did not have television and the fun they had, they created themselves. One of the most interesting parts of her childhood is that she had a trapeze set up in her house. She would hang by her heels and do tricks for hours! She would also ice skate, read, and of course, play the piano.
Mary Ann attended a Catholic School and education has always been an important focus in her life. However, she did have some fun and even got into a little trouble. When she was in band, her teacher would lock the door right after the bell rang. Students who were tardy were not able to participate in class that day, so Mary Ann and her classmates decided to turn the tables on him. Once he left the room, they locked the door and locked him out! They made a pact with each other, and to this day she won't reveal which one of her classmates actually locked the door. We think we might know.
After graduation, she attended South Dakota State University where she met her future husband, Len. They had 3 children- 1 boy, Scott Len, and 2 girls, Dawn Lynn and Dayna Kay. She named her daughters and he named their son. After college, she became a teacher at a Catholic school in Winner, South Dakota. She also taught in Nebraska. She says the best part of teaching was encouraging her students and watching them find success in whatever they chose to do. She did not believe in homework and felt that you should work hard enough in school to finish your work there.
In 1985, she moved to Spearfish. She only planned on staying for 5 years, but she found a friend to play bridge with and has been here ever since. Her friend has since moved to Pierre, but they still make an effort to keep in touch and even plan a trip together once a year. Friendship is a big part of Mary Ann's life and she always makes time to call and let her friends know that they are important to her.
Her family is a source of great pride for Mary Ann. She also loves to travel. In fact, she and her daughter have traveled to well over 10 different countries! Her most interesting trip was to Australia and New Zealand and she hopes to visit Uganda someday. She has enjoyed all of her experiences and has learned so much from each place she has been! Everywhere she goes she orders her favorite meal, an omelette. She looks forward to traveling more in the future!
Mary Ann loves to live life to the fullest. Her faith, family and friends keep her healthy and happy. She works hard at staying involved and makes an attempt to do something in our community every day. She truly believes that education is at the center of everything we do and encourages everyone to find a love for learning. Set a goal and make a plan to reach that goal- everyday. She told us to work hard, learn a lot and make a difference- she has definitely made a difference to us.