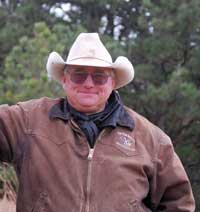 "21st Century Cowboy"
Words and music by Leonard Running
with Mrs. Schuler's 4th Grade Class
©2013 Leonard Running
You can see him coming over the hill;
It's a real Wild Western scene.
He's got a hat; he's got a rope;
And he's dressed in boots and jeans.
He's got a cell phone up to his ear;
He's driving an ATV.
Well, whaddaya know – it's Cris Dean Miller
And he's smilin' and wavin' at me.
Chorus:
He's a 21st century cowboy
But he's a little old-fashioned, too.
He has New-Time tools to use now, boy,
But he's an Old-Time buckaroo.
He likes his cows; he loves the land;
He works hard for his fam'ly and his fellow man
He's a 21st century cowboy
But he's a little old-fashioned, too.
Things were different when Cris was a kid
One channel on his TV
No remotes; no interstate;
Not even a Mickey D.'s
He made his own fun after his chores,
Went to dances or maybe a show;
But what he liked best (besides a girl named Dianne)
Was riding in the rodeo.
Chorus
You can tell that the years have been kind
To Cris and his bride, Dianne:
They have kids; their kids have kids;
They have cows and they have land.
Cris thinks he's not done enough;
And it might seem strange to you:
But every month Cris rides into town
And he sits on a board or two.
Chorus

Cris Dean Miller was born October 15, 1956 in Huron, SD. Cris moved to the Spearfish area when he was about two years old. Cris lived in St. Onge with his parents, one brother, Cyle, and two sisters, Debbie and Deonne.
As a child, Cris enjoyed riding in the rodeo and participating in 4-H, showing cattle. He also spent a lot of time at his grandparents' farm. Cris also liked playing sports such as basketball and football. For a special treat Cris and his family would travel to Rapid City to enjoy some McDonalds food! Along with the usual dogs and cats, he had a unique pet named Woody the Woodchuck.
Growing up Cris only had one channel to watch on television and that channel was only on at night for a couple of hours. Cris was a hard worker as a child. Not only did he have chores at home, he worked on his grandparents' farm taking care of animals.
In kindergarten, Cris met his lifelong best friend, Tim Tetrault. They still talk or get together every week! Cris attended kindergarten through 7th grade in St. Onge and then became a Spearfish Spartan for his 8th through 12th grade years. His favorite subject in school was recess and history.
In high school Cris was very active in rodeo. When he first started he participated in almost every event. His first car was a 1968 Mercury. Cris's first paid job was working after school and on the weekends at a dairy farm. During his junior year in high school, he met and started dating Dianne. Cris went on to a Vo Tech school in Sturgis and earned a degree in agriculture.
After college, in 1976, Cris married his high school sweetheart, Dianne. Cris is very proud of his three children and nine grandchildren.
Cris loves working on his ranch, taking care of the animals, and being with nature. It is long hours and hard work, but very rewarding! Cris's favorite hobby on the ranch is riding his horses. Along with working on his ranch, Cris also serves on two different board of directors. He is the Chairman of the Board of Directors for Butte Electric and sits on the Board of Directors for Farm Credit Services of America, which is a cooperative that helps local farmers and ranchers. To this day, Cris considers his family one of his greatest accomplishments.
When asked what advice he has for students of today, Cris says to continue your education and follow your dreams. Learning is important. Even if it doesn't make sense at the time, later on you realize why your teacher made you learn it.