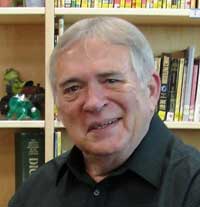 "Larry Bell!"
Words and music by Scott Simpson
with Mrs. Christensen's 4th Grade Class
©2012 Scott Simpson
Larry Bell! Larry Bell! Larry Bell! Larry Bell!
Larry was a rock 'n roll star
With the Continentals, yeah, they went so far,
Larry Bell! Larry Bell!
They played the Pavilion in Spearfish Park,
Yeah they rocked the kids till the sky was dark,
Larry Bell! Larry Bell!
Chorus:
Don't listen to what those bullies say,
You've got to do it all your way,
Like Columbus in 1492
Don't quit til you see it through,
Don't quit til you see it through,
Don't quit til you see it through,
Yeah, yeah, yeah, yeah, yeah, yeah, Yeah!
Larry Bell! Larry Bell!
A blizzard came with snow and hail
Some said he was delivered by mail,
Larry Bell! Larry Bell!
He was an only child, and his parents knew
He could be anything that he wanted to.
Larry Bell! Larry Bell!
Chorus
Larry Bell! Larry Bell!
Spearfish, Denver, Monterey,
Thermopolis, Durango along the way,
Larry Bell! Larry Bell!
Traveling far is really great
But now home is the place he appreciates
Larry Bell! Larry Bell!
Chorus
Larry Bell! Larry Bell!
Now he lives in town with his wife, Lee Ann
They have 2 fine sons and 3 fine "grands"
Larry Bell! Larry Bell!
Nobody will forget his name
It's on a plaque at the Rock n Roll Hall of Fame
Larry Bell! Larry Bell!
Chorus
Larry Bell! Larry Bell! Larry Bell! Larry Bell!

Hi, my name is Larry LeRoy Bell. Larry is not short for Lawrence; it is simply Larry. LeRoy, my middle name, was my father's name. My family's home was in Spearfish, but I was born in Deadwood, March 12, 1943, during a snowstorm. There was no hospital in Spearfish so I was delivered in Deadwood. Due to the bad weather, my mother and I couldn't get back home so we caught a ride to Spearfish with the mailman. People say that I was delivered by mail!!!! You may ask, "Where was my father during all this time?" Well, he was stationed in Mountain Home, Idaho. It was during WWII and Dad was a cook for the Army. I was 3 or 4 months old when I finally met my dad.
I grew up fishing in Spearfish Creek and helping my dad pump gas at his gas station. Before the child labor laws, of course. I remember our first TV. We bought it when I was an 8th grader. The picture was so grainy that it was like watching television in a snow storm. Our neighbor bought one a year earlier and I couldn't think of enough excuses to go over to their house to watch TV.
In Junior High I started playing the guitar emulating my older cousins. By the time I was a sophomore in high school, I had formed a band and we were playing all the time. The first talent show we won was around 1959 at Spearfish High School. There was a man in the audience named George McGovern. He came up and shook our hands. That was the start of something good.
Every Friday night we played at the Spearfish Park Pavilion with the likes of Buddy Holly and The Crickets. My mother was proud of me for starting a band. I guess I must get my musical ability from her. In church, she was active playing the piano and singing in the choir.
I graduated from high school in 1961. My band and I moved to Denver to play. After playing awhile, I decided that I needed to find something a little more lucrative. I moved to Amarillo, Texas and attended college for a year at West Texas State University. I came back to Spearfish to finish school at Black Hills State Teacher's College. From here we moved to Monterey, California where I taught school for a year.
I came closest to realizing my childhood dream of becoming a police officer when I became a juvenile probation officer in California. You have to remember this was the age of hippies and flower children. I was their advocate and made recommendations to the judge. Basically, I went down to Big Sur and put runaway girls on a plane to go back home. Here in California my first son, Dustin, was born, and it was here also when my first wife passed away.
I was a single father and needed to move closer to home, family, and a support network for my 2 year old son. I moved to Thermopolis, WY where my uncle had a job waiting for me. I taught high school speech, English, and drama. That is when I met my second wife Lee Ann, who was a registered nurse. If you ask how we met, I would have to tell you that I was the most eligible bachelor in Thermopolis. We were married July 29, 1971, and forty years later we are still married.
We are proud parents of two sons, Dustin and Chad, and grandparents of three grandchildren, Rita, Alex, and Jacob. All of our children live in the Denver Metro area.
When I look back on my life, I have to say it has been a success. My greatest accomplishment would have to be my children, though I have a couple more successes that I am very proud of. My band and I were inducted into the South Dakota Rock and Roll Hall of Fame in Mitchell in April, 2010. That is certainly a long way from the Tennessee Ernie Ford concert that my parents took me to as a child. My mother lived to see the induction. It was a proud moment!
Another keystone in my life was being published in the "Teaching PreK-8", October 1988 magazine. This led to speaking engagements in New York City and Boston as me portraying Christopher Columbus. I learned a life lesson when I studied and spoke about Columbus. He possessed a quality that I find quite appealing-tenacity!
Columbus never gave up. He presented his case before the queen of Spain for over six years before he was finally granted the funds to sail west. He was made fun of, bullied, and ridiculed, but it didn't matter to him. Columbus didn't care that it had taken six long years, but his dream was finally coming true. Imagine!!!! We can learn a lot from Columbus. Remember tenacity and do it your way! Don't ever let the bullies get you down.