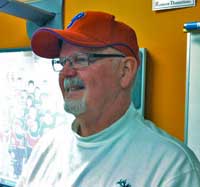 "I Care About People"
Words and music by Hank Fridell
with Mrs. Merchen's 4th Grade Class
©2012 Hank Fridell
School it didn't interest me, I'd rather be outside.
Climbing trees, playing ball, exploring Perkiomen's lakeside.
My parents they said, "You're gunna go to college, son."
I found one that would take me, but I had too much fun.
I care about the people in my church
I care about students
I care about the workers in Cambodia
I care about the guys in my Unit
I care about people in Rosebud
I care about my family
This is how I live. I care. I care.
Graduated in '68, worked with Kennedy before he was gone.
I met and dated Jeanne. I was drafted for Viet Nam.
101st Airborne Soldier of the Month; I was the one.
I hated to leave my unit. The war made me a better person.
Chorus
After Viet Nam I was kind of lost. We had hair to our shoulders and all.
I got caught up in that stuff 'til Jeanne gave me a call.
I still get choked up, years after that call arrived.
She wanted to know if I'd made it back alive.
Chorus
A year later we were married. I taught and coached track and cross country.
You know I kept every photo that my students gave to me.
Jeanne and I and our daughters, our family's all in education.
Our church and helping others is my vocation.
Chorus
Most important for Jeanne and me is the family we began;
And of course the son I never had, my dog Sam.
Chorus

I was born in 1946, in Phoenixville, PA. I was named Thomas David Earl Freece, Jr. Most of my upbringing was in Audubon, PA, a mile from Valley Forge. My family moved there in 1954. My family includes my mom, Margaret, who passed away, my dad, Tom Sr. my brother and sister, Dianne and Jim. My dad still lives in that house today. When I was younger my hero was my dad. One of my favorite memories of childhood was when we had family celebrations with all our extended family.
My elementary school years were not much fun. I started school very young at age 5 ½. I attended 1st through 8th grade at St. Ann's Catholic School. It was very strict, although Sister Emily Joseph, in 8th grade, was my favorite. I didn't really like reading as much as being outdoors. My favorite subject was recess! My favorite "toy" was a shot gun. I hunted pheasants and rabbits. As a boy I dreamed of being a pro-baseball player.
During High School I played and loved sports. I was on the Track Team and also loved hunting and fishing.
After High School I had a hard time getting into a college, I found myself at Dakota Wesleyan University in South Dakota. I did not take school very seriously, but I met a lady who would become very special in my life.
In 1968 I met Robert Kennedy when he was campaigning in Mitchell, SD. I wanted him to be president. Less than a month later he was assassinated. I think he would have changed our country.
After graduating from college, I was immediately drafted. I attended Basic Training in North Carolina. I was in Advanced Infantry training in Los Angeles. I was then assigned to the 101st Airborne Division in Viet Nam. I was in Viet Nam for 13 months. While there I was a Radio Operator. I was also Battalion Soldier of the month and Brigade Soldier of the month.
When I returned from Viet Nam I really had no direction in my life, other than buying a 1968 fire engine red MG Midget. Then Jeannie, the girl I had met in SD, called me to see if I had made it back ok. Less than a year later we were married. She is a very important person in my life.
I then went to the University of South Dakota to get my Masters in Special Education. I became a Special Education teacher and a coach; primarily track and cross-country. I taught in Parkston for 5 years and in Spearfish from 1978 to 2005. In addition to coaching, I was involved in Close Up to teach kids about the government and legislative process.
After I retired from teaching I worked with a youth program at the Rosebud Reservation with Father John Hatcher. In 2008 I was ordained a Deacon at St. Joseph's Catholic Church in Spearfish.
I love my life in Spearfish. My family, my wife, my daughters, Jill and Melissa, and their families are the most important thing in my life.
My advice to the 4th graders is to live your life to the fullest. Embrace everything that is around you; family, opportunities, and education. I also believe one of the plagues of education is bullies so we should all respect everyone!
To sum it up: Love your neighbor as yourself.