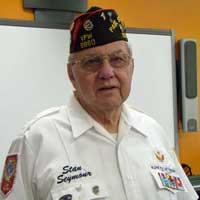 "He's an Airman Through and Through"
Words and music by Marianne Fridell
with Mrs. Tiffany's 4th Grade Class
©2012 Marianne Fridell
I grew up on the plains of Seymour, Illinois
Playing Ditch 'em in the streets with all the girls and boys.
The Great Depression. There wasn't much money.
But I had good friends, My memories are sunny.
When I was twelve I worked hard on the farm
Work that ends at dusk and starts before the dawn
With the war, the young and old did chores
I decided early on — I didn't want to be a farmer.
After graduation I joined the Air Force
I had to go through the "Hard Knock Course."
It wasn't a gimme, which suited me
The Korean War, Guam, Hawaii and Germany
Off I went into the wild blue yonder, Off I went into the sky
Stationed at Ellsworth in 1954
I was a roller skating champ and man, I could soar
The love of my life was at the skating rink
As I skated by I gave a little wink
Off we went into the wild blue yonder, Off we went into the sky
28 years I served for me and you
I am an Airman all the way through
When I got back I joined the VFW
Now helping Vets is what I do.
I don't like war. No one likes war.
I was ordered to go, so I went.
When I saw the injured
Coming back from war
I made a promise…………………………
When I got out I would do everything
In my power for the veterans.
I am an airman through and through, I am an airman through and through
Off we go into the wild blue yonder, Off we go into the sky.

I was born the end of February, 1930 in Seymour, Illinois, a town named after my Grandfather and uncle. This was such a small town that when we played the game "Ditch 'Em" we used the entire town as our hiding place. As I was growing up the only job I could find was to work on the farm. I decided quite young that I did not want to be a farmer because you had to work sun up to sun down every day. After I graduated from high school in 1948 I went straight into the Air Force.
While in the Air Force I was stationed all over the world including bases in Hawaii, Guam, Germany, and the Korean War. I was in Korea for 13 months. Korea was very cold. Wind would whistle down from the north with nothing to stop it. There was no way to heat the water. Have you ever tried taking a shower in ice water? You would turn blue while showering so there weren't many showers being taken. It got a little rancid around there. You stood it as long as you could, but when you started to smell yourself it was time to take a shower.
After the Korean War I was stationed at Ellsworth Air Force Base in 1954. While at Ellsworth I also had a job as a professional roller skater. I taught skate dance and free style roller skating. The skating rink is where I met my wife Connie. We were married in September of 1958. Out of all of my life's adventures, my married life has been my favorite.
Our first post after being married was in Goosebay, Labrador. Goosebay, Labrador is way up north on the East Coast of Canada. On October 3, 1958 we got our first snowstorm. We didn't see ground again until May. That year it snowed 131 inches, was 50 below zero, and the winds blew at 90 miles per hour. Some days it was so cold and windy that the entire base would shut down and we would use tunnels in the snow to get around the base. We were stationed at Goosebay, Labrador for two years. Connie never complained about a post after Goosebay, Labrador!
My wife and I have been blessed with three daughters, Debbie, who was born while we were stationed at Goosebay, Labrador, Linda and Denise. We have also been blessed with six grandchildren, four boys and two girls. We have been lucky enough to have good health so that we can continue to visit them. Debbie lives in California, Denise lives in Illinois, and Linda lives here in Spearfish.
I served in the Air Force for 28 years and retired as a Senior Master Sergeant. After leaving the military I ran the theaters in Spearfish for 12 years before retiring for good once Denise graduated from high school.
I have committed my life to helping the Veterans of Foreign Wars. When I saw all of the wounded soldiers coming home from war I made a promise that when I got out of the Air Force I would do everything I could for the veterans. I have held many positions in the VFW and Connie has held many positions in the Ladies Auxiliary. We always work as a team. When I was the local commander, she was the President of the Ladies Auxiliary. When I was the State Commander, she was the State President of the Ladies Auxiliary. I have had many national appointments and have made 7 trips to Washington, DC to help the veterans. I also served on the Homeless Veterans Committee. I feel the veterans earned their benefits and deserve every one of them. I help them submit their paperwork and give them guidance so they get what is due to them.
I hope that all children remember to live an honest life, enjoy life, study hard and learn. Respect your elders and those you associate with. Have good friends and be friendly. So many of my friends have gone home, pretty soon I will be the only one here. We weren't put here to stay forever. Who you are is what people will remember.