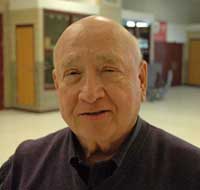 "Ranny Duncan Tune"
Words and music by Leonard Running
with Mrs. Janvrin's 5th Grade Class
©2011 Leonard Running
A man named Ranny Duncan came and visited our class;
We asked him lots of questions and he told us about his past.
We listened to his stories; he stayed all afternoon;
Then we wrote some down in verses and we put 'em with a tune.
What I would say to kids today;
Be responsible and be kind.
Play hard and fair and show you care
And make up your own mind.
The things I did when I was a kid
Some may not fill me with pride;
But if I can help like I've been helped myself,
Then I'll be satisfied.
He taught in our own classroom more than thirty years ago;
He had a trying student, he's a man that we might know.
Ranny Duncan changed his future in thirty words or less;
From trouble to trustworthy and from failure to success.
Chorus
Success, says Ranny Duncan, is a loving family and,
I have one, two, three, four children and two, four, six eight grand.
And it makes no difference if we're strong or rich or tough or smart,
We win when we have courage and a happy, loving heart.

Close your eyes and picture somebody that you really admire (Pause). Now that you have that person in your mind, think about how you could be more like them. All you need to do is act, walk and talk like that person, and pretty soon that is who you will become. This is what Ranny Duncan shared with us the day he visited our classroom.
Ranny Duncan was born in Custer, SD, in 1943, and is the youngest of five siblings. As a young child, there was never a dull moment in his life. From batting rocks to sledding through windows, Ranny's childhood was very eventful. One of his first report cards proved that he was quite a handful. It stated that he got into many fights. When confronted by his mother about this, Ranny proudly remarked, "I can whip everyone in school except my older brother, Ray."
In high school, Ranny excelled in basketball, baseball, and football. "If it was round and bounced, I played it," Ranny shared. According to one of his former baseball coaches, Everette Follette, athletics helped define the "never say die" attitude that Ranny exemplified both on and off the playing field. Mr. Follette also commented that while Ranny enjoyed winning, he also had the insight to use losses as lessons in how to improve himself for the next challenge. After graduating from Black Hills Teacher's College in Spearfish, Ranny began his professional career as a teacher and coach.
During his nine years of teaching, Ranny learned as many lessons from his students as they did from him. For instance, one student demonstrated that if you want to "clean up the school", all you need to do is dump any troublemakers head first into a garbage can! After years of "learning" new things, Ranny eventually left teaching and made a career of selling insurance for 37 years! Although this profession was challenging at times, Ranny's determination made him a successful businessman. Ranny was also instrumental in starting the Parents Who Care organization at the Spearfish High School. This was a group of parents who planned a way for high school students to stay safe on prom night by setting up a "Las Vegas Night". This tradition has been taking place every year on prom night for over twenty years.
As a coach, some of Ranny's proudest moments were watching his players accomplish something new. While he celebrated many victories with his teams over the years, he also supported them through agonizing defeats. Win or lose, though…Coach Duncan never gave up on any of his players, and they never gave up on him.
Although Ranny had a passion for working and coaching, he was even more dedicated to his family. He fell in love with Helen Moye after an evening of jitterbugging to the car radio in front of Crazy Horse back in 1961. And as they say, the rest is history! Ranny and Helen were married on June 18, 1966, and later had four children; Kim, Kristy, Heather and Scott. As their family grew, so did their dedication to raising their children. Ranny and Helen taught their children to be fair and to follow the Golden Rule. They also believed that once you earn somebody's trust, you must value it by being responsible enough to keep your word. Most importantly, though, Ranny and Helen have always told their kids that whenever you make a decision you should think about what your family would want and always put them before yourself.
Just when Ranny started thinking his days of raising kids were over, along came eight grandchildren…Makenna, Brady, Bridger, Brody, Colter, Cannon, Tayler and Evan. Since they all live in Spearfish, he now gets to help teach his grandkids the important lessons of growing up that he once taught his own children. His role of "coach" has also taken on a new definition. Whenever his grandkids are competing or performing, you can look on the sidelines, or in the stands, and you'll find Grandpa Duncan cheering proudly.
Now that Ranny is retired, you might find him chasing after grandkids, putting on the golf course greens, or maybe fishing for the next big walleye. But regardless of how he spends his time, he plans to stay close to the Black Hills.
The next time somebody asks you to close your eyes and imagine a person you admire, we hope that Ranny Duncan will come to mind. His dedication to others and love for his entire family have made him the respected man he is today!