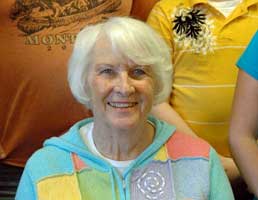 "Many Need Our Help"
Words and music by Hank Fridell
with Mrs. Tiffany's 4th Grade Class
©2010 Hank Fridell
I grew up on a farm outside of Winner
After prayers they checked my nails
I loved riding Snip and I learned to swim
Hanging on to that horse's tail
Chorus
Try hard, study hard, and you'll be
And you'll be successful, too
Many need our help
And I help out when I can
Remember me
For the person, teacher and grandmother that I am
I liked swimming and teaching kids to be healthy
For 33 years I taught PE
And we taught kids in Spearfish how to swim
It was the best job I found for me
Chorus
I travel to see the world and I see my grandkids
I help at the clinic and food pantry
I love quilting, Mahjong and playing bridge
Cooking up steaks and biscotti
Chorus

I was born Linda Novotny on February 1, 1939 in Winner, South Dakota. I grew up on a farm near Winner with my 4 sisters and 3 brothers. I attended St. Mary's Catholic School in Winner, and one of the things I remember about school is that after morning prayers the nuns would have us put our hands out so that our fingernails could be checked for cleanliness. We also had to have a comb and a hankie with us every day. We rode horses to school when the gumbo was too sticky to drive through.
I learned how to swim by taking a horse into the water at the dam and holding on to the horse's tail. Of course, this was something we were NOT supposed to do, so we made sure our clothing was totally dry before heading back home! Some of my favorite memories about my childhood include Christmas celebrations, and playing the game "Bat and Ball." This was a game we made up, and ANY ball would do. If we could not find a ball, we would make one by rolling up old socks into a tight ball for the game. We also had goats on the farm for a short time, but when they ate the clothing off the clothesline, that was the end of the goats.
My father wanted me to attend college so I could find a husband. I attended Black Hills Teacher's College in 1958. I decided to major in Physical Education because I liked to play games. I soon realized there was a LOT MORE to Physical Education than playing games. I was one of very few women to major in Physical Education. At the time, women were not allowed to participate in any sports. We could only play half court basketball.
I became a Physical Education teacher and feel I made the most difference by being a Water Safety Instructor at the college for 11 years. I taught people to be more competent swimmers. I still love swimming to this day, and was instrumental in bringing the swimming program to the elementary schools in Spearfish. I taught Jr. High and Senior High Physical Education for two years, and I taught at West Elementary School for 20 years.
I did end up finding a husband in college. My husband Bill was a coach of football and wrestling at Spearfish High School and BHSU. We have been married for 48 years! I have been very lucky! We have four children, three boys and a girl, and eleven grandchildren. Our grandchildren range in age from five to twenty-four. We stay very busy following the sporting activities of our grandchildren.
Besides following our grandchildren's activities, we do a lot of other traveling. We traveled to the Czech Republic to visit my father's home town. We enjoyed time in Rome and Prague during that trip. We also follow Black Hills State University sports teams, and visit family all over the United States. When I'm not traveling I do a lot of volunteer work. I help at the local food pantry, the free medical clinic, and at my church. I love to play Mahjong and Bridge, and I enjoy quilting. I make a quilt for every one of my grandchildren when they graduate from high school. I also love to cook, especially steaks and biscotti. Someday I would like to try kayaking and travel to Hawaii. My favorite singer is Neil Diamond. I was lucky enough to see him in concert, and even got to shake his hand.
My biggest advice to kids is to work hard, study hard, try hard, and you'll be successful.
All kids are wonderful!