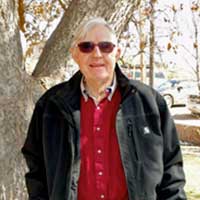 "Mr. Frawley Listens Well"
Words and music by Scott Simpson
with Mrs. Merchen's & Miss Sparks 4th Grade Class
©2010 Scott Simpson
Hank started out to be an actor–
went off to college at an early age.
He came back home to drive a tractor;
now a Black Hills ranch is his stage.
Every object has a story–
A great significance it longs to tell;
Every place rings with the voice of history,
And Mr. Frawley listens well…
To the stories places tell…
He was born in the 1930's
Grew up an only child
Learned to work repairing fences
Learned to play where trails run wild.
He was a kid out riding horseback
'bout eleven when he learned to drive
Trucks and tractors in the springtime
Out in the mud the calves arrived
Chorus
He and his wife restored a stage stop
Preserved a one room schoolhouse
Mr. Frawley's ranch is filled with history
Antiques, buffalo, and a dugout
Make sure you find what makes you happy–
don't be lost in misery.
Life is tears, and life is laughter,
and both make golden memories.
Chorus
and Mr. Frawley listens well…
to the stories places tell…

My name is Hank Frawley. I was born October 12, 1936, on a cattle ranch in Deadwood. I went to grade school and high school in Deadwood. After high school I went on to further my education at Black Hills State University, Notre Dame and Yale. I wanted to be an actor, but decided ranch life was for me, so after my school years I made the decision to move back to the family homestead.
I was an only child. Growing up I liked Erector Sets, board games, riding my horse, and playing sports. I helped out on the ranch by working with the animals, raking hay, riding my John Deere tractor and repairing fence. I was probably 11 or 12 when I learned to drive a pick up and that little tractor! I liked the music of the Big Band Era; Glen Miller and the Tommy Dorsey Orchestra. My best friend growing up was Bill Beshara and he is still a good friend today.
When I was in high school, Deadwood won the 1954 State A basketball tournament. Going on to college at Black Hills State I was delighted to have Lavina Humbert as a teacher. She was the head of the theatre department and made class fun and interesting. Her classroom brought acting to life in a fascinating environment. She started the organization Props and Liners of which Louise Smock and I remember with fondness. Throughout my years studying theatre, I did impersonations of Mark Twain. One of my favorite books is Huckleberry Finn.
Once back on the family homestead, I married Molly in 1978. We restored an old stage stop to be the beautiful home we live in today. We have a son Mike, who is a Civil Engineer, and a grandson. I love ranching and have cattle, horses and buffalo today.
There are historic buildings on the ranch; our home, a dugout, a school and more. I have a passion for historical research and restoration. Each of these buildings has a story to tell and I feel if I can preserve the building, it can continue to tell the story. My dream is making sure we hear these stories because to lose them, would be too great a cost.
I told the 4th graders one regret I have was not asking my dad more questions about his life. My dad died in 1985 at the age of 91. I wish I knew more about his history.
Other favorites of mine are; antique furniture, spaghetti, pick-up trucks, Fall, and the movie, "On Golden Pond". But my greatest passion is to tell the stories by preserving what might be lost. The 4th graders asked what my advice to them would be. I told them to find what interests you. If it takes you to college or to a trade school, whatever the occupation, get your education and more training in something you like and enjoy.
Mr. Frawley Listens Well