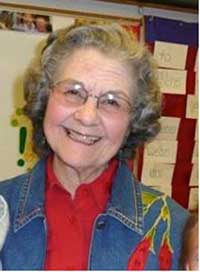 "What I Still Know Is True"
Words and music by Hank Fridell
with Mrs. Dahl's 4th Grade Class
©2009 Hank Fridell
Back home they believed I was pretty
They flew me to New York, Atlantic City
They believed in me, so I did too
I never forgot what I still know is true
Chorus:
Help your neighbors my father would say
Work hard don't give up every day
Keep on smilin', learn all you can
I learned to believe from the people who gave me a hand
I worked at rodeos for 50 years
Helping kids to ride, ropin' steers
Mobridge to St Onge and Deadwood, too
I never forgot what I still know is true
Chorus
My family settled here, they were Danes
Bat and I raised our family on these same plains
We did well with the ranch and our kids grew
I never forgot what I still know is true
Chorus
End:
I never forgot what I still know is true
I never forgot what I still know is true

When Rosie first walked into our classroom, we knew right away from her beautiful smile that she was someone very special! Rosie has lived in the Black Hills her entire life and has seen a lot of changes! She says she's been fortunate, but we were, too, because we learned so much from the stories she told us.
Rosie's family came from Denmark in 1883 and settled in the Black Hills of South Dakota. Her grandmother walked all the way to St. Onge from Pierre! She was born on July 29, 1929, in Deadwood, SD, just before the Great Depression. She had one brother who served during WWII, and her family raised grain to help with the war effort.
Rosie went to school in the old Middle False Bottom School, a one-room country school house by St. Onge, which her grandfather helped to build. There were eight grades together and Rosie says the older kids helped the younger kids with their schoolwork. They brought their own Big Chief paper tablets and had to keep the wood stove going to keep warm! One of Rosie's dreams in life was to become a nurse.
Rosie remembers milking cows, taking care of chickens, and making butter when she was growing up. They didn't have electricity until 1948! Their barn was made of stone from their pasture. For fun, they played croquet and baseball, and Rosie would ride Chub, who was her favorite saddle horse. Rosie's family believed in being good neighbors by helping and lending a hand whenever and wherever it was needed.
After Rosie graduated from Spearfish High School, she got her two-year teaching certificate from Black Hills Teacher's College and did her student teaching in 1st and 2nd grades, but then worked for Dr. Madison, a dentist in Spearfish, for $80 a month! Rosie was the very first Miss South Dakota, representing our state in the Miss America Pageant in Atlantic City, New York. She had never been in such a large city! She said life buzzed by so fast there that it made your head swim! Too fast for a country girl! J.C. Penny was her sponsor and gave her three beautiful gowns to wear for the competition!
Rosie married Bat Ridley in 1950 and together they started ranching near St. Onge. They began their married life raising chickens and selling the eggs to the grocery store. They began with 20 registered Angus cows, and raised registered quarter horses. Rosie and Bat were blessed with two children, Andy and Wanda, who also graduated from Spearfish High School and who both still ranch on the family homestead today.
Though ranching came first, Rosie and Bat were very active in their community and with rodeo. This was something they did as a family. Besides helping others learn to ranch, Bat and Rosie helped their children and other youth learn to ride and rope, because they believed that each generation should help the next. Rosie was an event timer and judge, and kept all the records for the Rodeo Cowboys Association for 50 years, working the Rough Riders, Black Hills Round Up, and the Days of 76 Rodeos, and even traveled as far as Mobridge and Nebraska to help with rodeos there.
Rosie has seen many changes in her lifetime, but says that she has been lucky. Her advice is to keep smiling, work hard, learn everything you can, and to help others along the way!