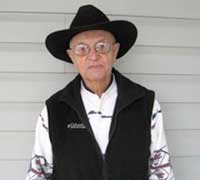 "Living My Dream"
Words and music by Susan Hove-Pabst
with Mrs. Dahl's 5th Grade Class
©2009 Susan Hove-Pabst
From a country school to farm work, just trying to make a dime.
The dust and crops of the "Dirty Thirties"– hard work and hard times.
Load up the truck, my thirty seven Ford.
Load up the truck; let's call it a day.
Load up the truck; we'll put away the tractor.
A dance or cards to end the day– it's time for us to play.
Edna and I got married. Then war came; I had to go.
To Africa and It'ly's shores; I fought my country's foes.
Ship me back home; I want to see my Edna.
Ship me back home; I want to meet my son.
Ship me back home; my army life's behind me.
With Edna and my baby son my fam'ly life's begun.
Back to Spearfish and fam'ly. I owned six trucks for a while.
I worked many years for the city: Where to put all the snow piles!
Load up the Jeep; we're goin' to go out hunting.
Load up the Jeep; we're goin' to have some fun
Load up the Jeep; with fishing and with hunting
The boys and I will have some fun when work is done.
After years of hard work I retired. Edna and I are a team.
I read and we enjoy all the kids. Now I'm living my dream.
Load up the car; we're going to see our grandkids
Load up the car, Edna, my dear wife.
Load up the car; we're off to see some ball games.
With kids, grandkids, and my dear wife,
I like retired life. I like retired life.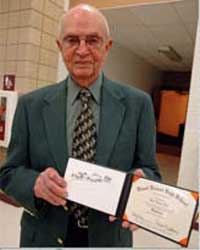 Listen to a Special Presentation made to Paul Dahl from the Mt. Vernon School District, presented at the EWCS Celebration!


I, Paul Lester Dahl, was born to Carl and Iva (McLeod) Dahl at Mt. Vernon, SD, on September 8, 1918. My younger sister Hilda and I attended a little country school and enjoyed community activities with many neighbors.
After two years of high school, I dropped out to go to work during the Dirty Thirties. You really had to try to survive because there were dust storms and no electricity. Education is very important and I wish I had more. In 1935, I moved with my family to a farm west of Spearfish on Redwater. I helped my folks on the farm and later drove a truck for American Collide hauling bentonite.
In 1938 I met Edna Herber, a beautician from Buffalo, WY. We dated a couple of years and after many hours of traveling back and forth to be together, we decided to get married and had our wedding on my birthday, September 8, 1941.
In 1942 I joined the Army and was sent overseas to Africa and Italy during World War II. My first son, Von, was born in November of '42; and I didn't see him until he was 18 months old when I returned to the States in March of 1944.
When I was stationed at Ft. Ord, our second son, Dennis, was born in Monterrey, CA in 1945. That August I was discharged from the Army and our family of four returned to Spearfish to live.
Our third child, Gerald Herber Dahl, was born in 1950. At that time I started a trucking business which I sold in 1966 to Continental Oil Company.
I owned the Conoco station on the corner of Fifth and Illinois for awhile and then went to work for Spearfish Motors as shop foreman until 1970. Then I changed careers when I took the position of Public Works Director for the City of Spearfish. After seventeen challenging years, I retired in 1987. It was an honor to have Dahl Road named for me.
Family time has always been important to me. We've traveled to Seattle, Hawaii, Washington D.C., the Statue of Liberty, the Grand Canyon, and many other wonderful places. I loved to hunt and my three sons grew to love it too. We attended many ball games, band and choir concerts, church programs—whatever the kids and grandkids and now great-grandkids have been involved in over the years. One Saturday Edna and I saw five grandkids play basketball, each in a different game…two in Spearfish in the morning, one in Gillette, WY in the afternoon, and two games in Buffalo, WY in the evening! I ached all over, but enjoyed every minute of it.
Edna and I celebrated our 67th wedding anniversary on my 90th birthday last September. Our family keeps growing with fifteen great-grandchildren at present; and I hope we can see them grow up a little more. I have traveled a lot and seen a lot, but now there is no place like home where I'm living my dream!