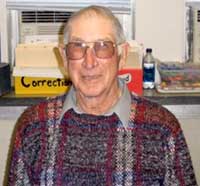 "My Place"
Words and music by Gordy Pratt & Lori Ann Miller
with Mrs. Schuler's 4th Grade Class
©2009 Gordy Pratt & Lori Ann Miller
My Grandfather bought the place in nineteen "O" eight
He'd gotten flooded out back east four years straight
I was born in nineteen twenty
We didn't have much but we always had plenty
Growin' up I had to do lots of chores
Keep the wood box full, feed the horses
Gather up the eggs, cut the hay
Milk the cows twice a day at
My Place five generations
My Place eighty eight years
I've traveled all fifty states
But there's no place like My Place (Whistle)
Gas lights and lanterns and kerosene lamps
We hauled every drop of water we drank
So I only got a bath on Saturday night
Readin' comic books by candle light
I rode a horse to school everyday
Ten miles – – five each way
Horses were for work 'n' getting' place to place
We'd always get in trouble if we had a race at
CHORUS
I had some wild times in my courtin' days
We had a ball danced the night away
Uncle William played the fiddle in a western band
Along came Regina I took her hand
We raised five kids and sent 'em through college
They all did well with that store bought knowledge
Nowadays I don't ride horses around
I take my Buick when I go to town
CHORUS
Somebody asked me if I'd lived here all my life
And I said Not Yet

Leo William McGuigan was born on May 1, 1920 in Spearfish, South Dakota. He has lived on the same farm, in the same house his entire life!! There are now five generations of McGuigans who have lived and worked on the family farm. When asked if his farm had a special name, "My Place" was Leo's answering response.
Growing up, Leo and his three brothers and two sisters had to entertain themselves when they weren't doing chores and helping around their family's farm. Every morning, Leo was up milking the cows by eight o'clock. He was also responsible for keeping the wood box full. Since Leo's family didn't get a television set until he was 26 years old, Leo and his siblings played outside a lot! Leo spent most of his time playing with his brother Tom and with some of their cousins. They loved running around outside, pushing a tire or wagon wheel with a stick.
During his school years, Leo rode a horse to school every day. He rode five miles to school in the morning and the returning five miles home after school. Arithmetic was Leo's favorite subject in school. He liked to read funny books and the Reader's Digest. Leo's favorite teacher was his second grade teacher, Mrs. Kirk.
Although riding horseback to and from places was Leo's main mode of getting place to place till he was in 4th grade, he first started driving when he was twelve years old. Leo enjoyed riding horses and had a lot of fun with the occasional horse race, but he always thought of taking care of the horses as more work then fun. When Leo was 14 years old, his brother and him went together to buy their first car, a 1921 Model T Ford. A 1933 Chevy was the first car that Leo had the joy of owning, all to himself.
While growing up and during his high school years, Leo mostly worked and helped out with jobs around the farm. When he graduated from high school in 1938, Leo worked on a 20 acre truck garden pulling weeds. He made $30 a month, had a place to stay, and was WELL fed!!
Like most farmers and ranchers, Leo's family lost their ranch during the Great Depression but he bought the place back in 1942 and has been living and working there with his family ever since! According to Leo, life on a dairy farm is something that you were toughened into. He didn't get his first milking machine till 1946, so until then he had to milk fifteen cows by hand! In 1949, his farm became Grade A and he began selling milk.
On October 21, 1946, Leo married a wonderful woman, Regina Helen Bower. At the time they got married, Regina had been teaching fourth grade for three years. She continued teaching for another year then became a full time mom for their five children. When asked what accomplishment in his life he was most proud of, Leo said that he was proud that he was able to help all of his children through college. Along with his children, Leo has been blessed with eleven grandchildren, and nine great grandchildren!
Every fall, Leo takes two weeks off to travel. He has been to every single state and Rome!! Out of all of the places he has had the chance to travel to, Leo says he enjoyed Hawaii most of all! When not working on his farm, you can find Leo playing cribbage with some of the guys and hanging out with the ROMEO Group.
Leo's parting advice was to do as good as you can, for as long as you can. Don't be afraid to go ahead. Set your goals and try as hard as you can to reach them!