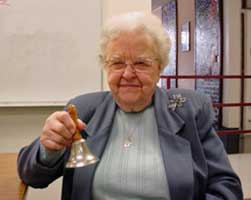 "Ringing in the Memories"
Words and music by Marianne Fridell
with Mrs. Hayes' 5th Grade Class
©2009 Marianne Fridell
A hundred ringing bells. A story how each came.
Such different sounds. Not one the same.
When I was just six years old, great-grandma gave to me
a school bell for the teacher, she said that I would be.
She'd done the same for mother that now she did for me.
The simple knell of these school bells inspired our destiny.
A two-room schoolhouse was the place where I first learned to read.
And the place that I first rang the bell great-grandma gave to me.
Each student was so different, not one the same it's true.
That's been my life: working with kids. Teaching's what I do.
Chorus
A hundred ringing bells. A story how each came.
Such different sounds. Not one the same.
Bells of brass and bells of silver. Bells of porcelain.
The Belle winds through the valley and chimes through earth and sand.
Ringing in the memories back where I began.
Ringing in the memories back where I began.
When I met my first baby, he had no family.
I was looking right at him. He looked right back at me.
Soon the phone rang again. Another child in need.
I fell in love at first sight — immediately.
My husband was 6 feet tall and skinny as a rail.
The boys were small and we raised them up on the air force trail.
Cheyenne, Texas to Seattle then back home again.
Herman and his aviators worked for war to end.
Chorus
We always had a Model T and I remember still.
Covering up with heavy robes to block the winter's chill.
But better yet was riding horseback, when I was your age.
But not so fun when I had to take the cattle out to graze.
Down in the valley where the Belle Fourche River flows.
No matter what the season, our favorite place to go.
Wading on the sandbars, swimming in the ponds.
Racing on the ice skate rink. It was our greatest fun.
Chorus
End:
Ringing in the memories back where I began.
Ringing in the memories back where I began.
(Repeat)

Doris Ilene Eaton, now Doris Shipley, was born in Belle Fourche, SD on January 7, 1914. She was born in a maternity home as there were no hospitals in Belle or Spearfish. She had one brother, Lloyd and the family lived 5 miles east of Belle Fourche. They had no indoor bathroom, so trips to her aunt's house were special because she could soak in a real bathtub.
Doris attended the two-room Ingersol School, where she first learned to read. Doris said, "I just loved to read and I still do. I could read with other things needing to be done."
During her childhood, she liked to horseback ride, read with her doll, Marie, and play with her Collie dog, Rover. She remembers being jealous of Lloyd when Rover would go to him instead of her. She also remembers receiving a garnet ring for her 9th birthday which she had wanted for 3 or 4 years. Later Herman gave her a garnet ring for their 50th wedding anniversary. She gave it to her grandson when he married.
When she was 6, her great grandmother gave her a special school bell. She had also given Doris' mother one when she was 6. Her great grandmother hoped that both girls would be teachers. Doris' mother did become a teacher and so did Doris.
Doris went to college at Dakota Wesleyan in Mitchell and received a 2 year certificate, taught 4 years at Butte County country schools, and finished her 4 year degree at Black Hills State later.
Doris knew Herman Shipley from her high school days. He used to drive Doris and others in the area to high school in Belle Fourche. She married Herman in 1937 at the age of 23. They loved to go dancing and attended many dances in the area. After marrying, they moved many times to follow Herman's Air Force career. They adopted two baby boys, Harold and Dennis. Eventually, they moved to Newell and settled down. She taught 3rd grade for 9 years in Newell. Because the town of Newell was so small, Doris recalled that everyone was her friend. She said, "I had 500 friends!"
They moved to Spearfish when Dennis was a freshmen at Black Hills. Doris finished her degree here too and became the librarian at East Elementary when it was a junior high and high school. Herman was in real estate. Doris' favorite vacations were going to the seashore, at both oceans and the Gulf of Mexico.
Doris has 4 grandchildren and 2 great grandchildren, and 2 great, great grandchildren, a one-year old, Logan, and one who was just born, Esabell.
Doris said her best advice to the 5th graders is, "Never stop going to school no matter how hard it gets! Keep on. You don't know what you're going to do yet, but keep on."
While visiting our class, Doris told us that she has kept on collecting bells and now has over 100. She brought them for the class to see and said, "Just give them a good shake!" and we did. At 95, Doris said, "I'm not doing much, but I live on my own and take care of myself!"
Doris Shipley, you are our special belle!