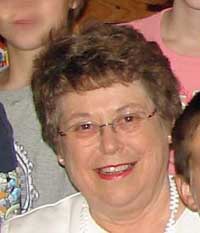 "Pat is a Positive Lady"
Words and music by Leslie Speirs
with Mrs. Kellogg's 5th Grade Class
©2007 Leslie Speirs
Out in the "boonies" near NoDak flats,
We're gonna tell a little story 'bout a girl named Pat.
The Lewis family lived in a modest little place,
But Pat grew up with a smilin' face!
Uh-huh, woh woh, Oh yeah!
With her brother and her sister had a lot of fun,
Playin' "sale ring" til the day was done.
Bareback ridin,' now Pat was the queen
On Betty the horse, that stubborn steed.
Uh-huh, woh woh, Oh yeah!
Learned how to read before she went to school,
"Living to learn" was her golden rule.
Patty loved games and recess too,
But she didn't love snakes, now that's the truth!
Oh-huh, woh woh, Oh-yeah!
(chorus)
Pat, Pat, Positive Patty is a positive lady.
Do what it takes to live your dreams, and don't say maybe!
It isn't what you say, it's what you do, do, do, (wop, wop)
Stand up for what is right, and see it through.
Valedictorian of Hettinger School,
Loved cheerleading and music too.
Black Hills College, she got her degree
And taught her first class of 43!!!!!
Uh-huh, woh woh, Oh yeah!
Patty loved Elvis and the jitterbug, too.
Taught her students a mean soft shoe.
Good sense of humor and a lot of fun,
Made this teacher number one!!!!
Uh-huh, woh woh, Oh yeah!
(chorus)
(bridge)
Things are not the most important things in this world.
With husband Bill and three great kids,
Her family's tops with her!
(chorus)
Uh-huh, woh woh, Oh yeah!!!

Patricia Marie Ohnemus was born in Hettinger, ND, in 1936, on June 12th. Her parents were Agnes and Murrel Lewis. She was born in a house, not a hospital, where everyone went to have their babies. Pat has a sister, Marilyn, and a brother, Bob. Pat does not remember fighting with her sister, who was five years older than her.
Pat has many fond memories from her childhood. One was playing sale ring with her brother, where they would auction calves off to the highest bidder. Because they had no electricity or television, her family spent time together playing monopoly, singing, and popping popcorn. Her family attended many dances where her dad played the drums and her sister played the piano. Her sister and she shared a bed and would stay up too late at night giggling. One of her favorite pass times was riding her horse, Betty.
Pat's family did not have the modern conveniences, such as a washer and dryer, so they had to wash clothes by hand and hang them out on a clothesline to dry, even in the winter. She laughed telling us about how her dad's long underwear would freeze and actually look like a stiff person hanging out on the line.
Pat and her sister and brother were taught how to read by their mother before they even started school. Pat has a passion about learning, which began when she was young and continued through her life. She feels that learning is the most exciting thing you can do in life…learn something new every day.
Pat attended a one room, country school, with high windows so the kids wouldn't get distracted. She said the advantage of a country school was that while older students' lessons were being taught, the others could listen and learn from them also. Her favorite subjects in grade school were reading and of course, recess. Algebra was her least favorite. At recess they would play games such as; tin‐tin, sitting pole, the Flying Dutchman, and fox and geese. Marilyn, her sister, was actually Pat's 8th grade teacher and she remembers being snowed in at the schoolhouse for three weeks one winter.
Graduating from high school in 1954 as the valedictorian of her class was a great accomplishment for Pat. She loved choir, band, and cheerleading in high school. After high school she attended Black Hills Teacher's College and received her degree in education and another major in vocal music. Her first teaching job was in Sturgis, SD, teaching a class of 43 students. Even though she had such a huge class, she had fun with her students, teaching them the jitterbug dance.
In 1958, Pat met the number one man in her life, Bill, and they married the day after they graduated from college. They had three children; Bill, Mary, and Danny. Pat and Bill also have five grandchildren. Her main concern in life was that her children grow up to be decent, caring people and become successful and happy at whatever they wanted to do. She said the most exciting event in her life were the birth of her children because it was a true miracle.
The greatest accomplishment in Pat's life was raising her children and becoming a teacher. Her advice to our fifth graders was to work hard, do the best they can, be nice to their teachers, and to fulfill their dreams.
Pat lives her life with a positive attitude, always believing that tomorrow will be better. She told us to have integrity and always stand up for what is right, even when it's not easy. This will make you a person that others look up to. Pat feels strongly that things are just things, but the most important thing in life are people, your family, and your friends.