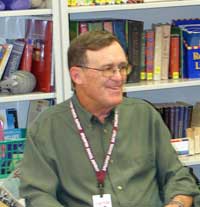 "Shoes, Cars and Happy Days"
Words and music by Scott Simpson
with Mrs. Merchen's 4th Grade Class
©2007 Scott Simpson
He stocked shelves in the St. Onge General Store.
Pulled pranks with friends and a whole lot more.
Ran track and played the slide trombone.
Got bucked by a horse, but he never broke a bone.
(chorus)
He'll sell you a pair of comfortable shoes.
He'll make an old car look as good as new.
Keep going down the road,
There's something great around the corner for you.
– for you.
Had a girlfriend, Mary Arthur Smith.
She said, "I do," And then I think they kissed.
4 kids and 11 grandkids came.
There're too many so we can't sing all their names.
(chorus)
You might see him working at the farm.
Under the hood giving old stuff lots of charm.
Happiness knows that tomorrow is a brand new day.
There's no place like his home and he's here to stay.
(chorus)

Ed Furois was born July 17, 1936, at the Deadwood Hospital. He was delivered by Dr. Lyle Hare. He was raised in St. Onge. He was 2nd in a family of 4. Ed had 2 brothers and 1 sister. They lived behind his dad's general store, which was built by his grandfather. Ed worked very hard doing a variety jobs in the store.
Ed went to school in a 2 room school house in St. Onge. He liked seeing his friends in school and math was probably his favorite subject. In 2nd grade he developed rheumatic fever and had to miss a year of school. Ed enjoyed collecting arrowheads as a child. His favorite toy was a bicycle. The bicycle was special to Ed because not many people had a bicycle in St. Onge. His family was also the first family in town to own a TV.
His 1st job was when he was 6 years old. He worked in a dairy. He also worked with horses for 6‐8 years and decided he never wanted to own a horse. One day when Ed was 6 or 7 he was out fixing fence on his uncle's ranch and got lost. He said, "Everybody in the world was lucky—they found me."
Ed went to High School in Spearfish at what is now East Elementary. He didn't care for basketball or baseball, but he did play the trombone and ran track. His nickname was Fast Eddy. When Ed was young he wanted to be a fireman, a railroad engineer, or work on a farm. He was going to join the Marines with a few his buddies, but his dad passed away when he was 16. Instead, Ed joined the National Guard and was in the Guards for 8 years. His favorite teacher in High School was his shop teacher, Joe Rigg. Ed owned 1 of the 2 cars parked in the parking lot at the High School. He told us about some great pranks he pulled in High School! (One involving a potato and an exhaust pipe, and another involving gum????)
Ed went to college at Black Hills State University. He majored in economics and math. Ed also received his teaching degree, but decided he'd make a lousy teacher. He decided instead to be a farmer, thus fulfilling his dream of working on a farm. He also worked as a volunteer firefighter for 10 years. In 1963, Ed bought the Spearfish Bootery.
Ed married his best friend, Mary Arthur Smith; the Arthur was after her grandfather. They were married in 1959. They have 4 children. He now has 11 grandchildren, 6 that live here in Spearfish. Ed spends his time between his farm, traveling with his wife, and his 3 shoe stores in Florida. His passion is restoring old cars. He is now working on a truck his father bought new in 1925.
We enjoyed hearing about some of Ed's favorite things and highlights such as reading books, Tommy Dorsey, hunting when he was younger, Sour Cream Raison Pie, and favorite TV shows "The Brady Bunch" and "How the West was Won!" Ed's parting advice for our class was: Life is full of ups and downs. Sometimes it seems like there's more downs, but there's always something around the corner. Think good things and good things will happen.
Thank you Ed, for some wonderful words to live by.