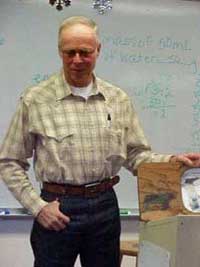 "Cows! Cows! Cows!"
Words and music by Leslie Speirs
with Mrs. Cooper's 5th Grade Class
©2004 Leslie Speirs
Back in 1883, came the first of many "Mr. Sleeps",
Over from the Mother Country.
Great Grandpa homesteaded west, from the town we love the best,
And the rest is bovine history!
Growin' up a rancher's son, playing in the creek for fun,
Hunting arrowheads and fishing some.
Now there's grandkids playing there,
and through the clean and country air,
Comes the sound of how the "West was Won!" (moo)
(chorus)
Cows, Cows, Cows, You know I sure do love 'em!
You gotta take care of them just like people, you see.
Cows, Cows, Cows, For a hundred years and countin',
We work hard making them the pride of our family.
We raise Grade A, Quality, Premium, Optimum, Tasty, Pure "D",
Fat and Juicy,
Holy Cow! It is Absolutely AMERICAN ANGUS BEEF!!!!
Back when I shot my first buck, couldn't find it, gave it up.
Grandpa found it down a prospect hole.
Even now I love to hunt, my kids and grandkids, we'll load up
And take off to the cabin on Beaver Ridge.
No finer men have I known, than those who had the name I own.
Left me with some great big shoes to fill.
But, I've worked hard and I've worked long, and now my kids
work right along,
After all these years our name's on the mailbox still! (chorus)
The happiest moment of my life, was when I married Karen my wife.
With Dad and Grandpa gone, we carried on.
I've volunteered and served on boards, and tried to help
amongst my chores,
Thinkin' of those grandsquirts of mine keeps me goin'! (chorus)
(My advice to you is work hard, go to school, gotta be honest,
gotta be nice, too,
Education is your big tool, for a happy life!)

My name is Richard Sleep. I was born in Deadwood, South Dakota in 1943.
I grew up on a ranch northwest of Spearfish. We lived in a two‐story house with a wood stove. I had fun playing in the creek and in the hayloft in our barn.
We had lots of work to do on the ranch, but we always had time to hunt on Beaver Ridge. The first time I shot a buck I thought I had missed it. My dad said to go look and sure enough that buck was down in a prospector hole!
I went to school at the laboratory school on the Black Hills State campus. We had many teachers every quarter because of the college students being educated there. I ended up graduating from high school right here in this building, which is now East Elementary. My favorite subject in school was math. I went on to South Dakota State University and graduated with an Animal Science degree.
I met my wife, Karen, when I was in college at Brookings. We were married and moved to my father's ranch. We had 3 children. They are Jeff, Melissa, and Matthew. Some of the happiest times in my life are the times spent with my wife, kids, and grandchildren. Family is very important to me.
Some of my favorite things are: collecting arrowheads and going hunting, my favorite food is hamburgers and my favorite ice cream is chocolate almond, my favorite cartoon characters are Goofy and Donald Duck and my favorite animal is, of course, the cow!
I have been active in the community. I served on the elevator board in Belle Fourche for 20 odd years. I was also on the Spearfish School Board. I used to attend many Spartan games when I was on the school board. I have also been a part of my church council. Square Dancing is one of my favorite things to do now.
Growing up, I looked up to my dad and granddad. They were my heroes. As I got older they passed the ranch down to me. I was very proud because this ranch has been in my family since 1883. I hope this ranch will be in my family for many generations to come.
As I took over the ranch, I grew to love my cattle. I always thought that cows are like people – calves are like kids, yearlings are like teenagers, and cows are like parents.
My advice to you is to study hard and plan on going to college for as much education as you can. I believe in working hard and that it is important to be honest in all you do. "It's nice to be important but more important to be nice."