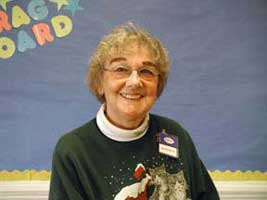 "It's Made All The Difference For Me"
Words and music by Hank Fridell
with Mrs. Kellogg's 5th Grade Class
©2004 Hank Fridell
I got started with cats when I worked on the farm
I'd give them a squirt when milking our cows
Today I'm the cat lady in our neighborhood
I know all fifty, and keep an eye on them all (meow)
I love Winky and Tuxedo to warm up my lap
It's made all the difference for me
Chorus
Learning was my escape, and it bridged the gap
To who I might become, to who I might be
I've reached out to others, I took the time to listen
It's made all the difference for me
Being a volunteer is the best thing I've done
At the Opera House or helping kids read
But the work with my MS support group
Is where I've filled the greatest need
Making a difference in people's lives
It's made all the difference for me
(chorus)
I've been angry and trapped but I didn't cry
I don't let what I can't do get in my way
I keep on going, I just don't stop
I find meaning in the difference I've made
It's what I hope for my children too
It's made all the difference for me
(chorus)

My name is Liz Haanstad and I was born in Oshkosh, Wisconsin on January 9, 1948 to Art and Bonnie Brayton. I was raised and worked on our dairy farm until I moved away to go to college. In my family I was the fifth out of fourteen children.
Growing up on a dairy farm didn't leave much time for fun hobbies, but one thing I remember were all my kitties in the barn. I got very good at squirting milk into their mouths while milking the cows. We had to make our own entertainment and my cats became my salvation. I woke up at 3:00 a.m. to milk 36 cows and still caught my school bus by 7:00 a.m. I came home right after school to milk again – not much time for fun. I did what I had to do.
I attended Wood Elementary Country School. Twenty children were enrolled in our one room schoolhouse and most of them were my sisters and brothers. My favorite teacher was Mrs. Koehler because she fussed over me like a grandma. My own grandmother didn't really have time for all her grandchildren because she had thirteen children of her own.
I graduated from high school in Oshkosh, Wisconsin in 1966. Then I attended the University of Wisconsin Oshkosh, majoring in French with a double minor in German and anthropology. I wanted to become a translator, but I met Mike (my husband), fell in love, and got married.
I have two children, Greg and Kristin. Greg is an Assistant States Attorney and Kristin is a personal trainer. My grandchildren are Walker (9) and Tory (3). My goal in life was to steer my children in the right direction and I'm very proud of them both.
In 1985 I was diagnosed with multiple sclerosis. I always wanted to make a difference in people's lives, so I started a multiple sclerosis support group, which I lead and facilitate. The rest of my time I volunteer at the Opera House, Senior Center, and Dorsett Home. I am a member of the Happy Times Band and Senior Choir. I've assisted with reading conferences at East Elementary for seven years. Through my volunteering I am able to touch people's lives, be involved, and make a difference.
My love for cats has only deepened through the years. I have two of my own and I keep track of all 50 cats in the neighborhood. I am known as the "neighborhood cat lady." I love cats of all shapes and sizes. My husband, Mike, and I love to go out and eat Chinese, play tour guide, and walk together. I enjoy taking pictures of my cats and beautiful scenery. Music is an important part of my life and I love folk country. I enjoy reading classic novels, but my favorite is Moby Dick because it had nothing to do with the farm.
My motto for life is no matter how many differences there are in our world, always be kind. Make a difference in people's lives and keeping a positive attitude is everything.
It's made all the difference for me.