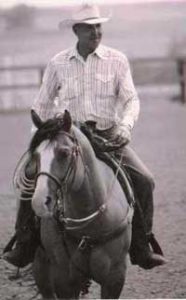 "The Life of a Stockman"
Words and music by Leslie Speirs
with Mrs. Gillick's 5th Grade Class
©2003 Leslie Speirs
Grandpa Pete first bought the land.
Sold it to Charles his son, who
Sold to son Vince, and Margaret his wife
And now their kids help in the fun….
Through five generations they've come.
Vince married a beauty he met in Beulah
And Margaret stands strong at his side.
Cattle and horses on the river Redwater
It's been a good place to abide….
A legacy passed down with pride.
(chorus)
The life of a stockman is all he has known,
It's all that he wanted to be.
The roots of his family run long and run deep,
To their hundred-year home in Spearfish Valley.
Stockgrower Pres and Man of the Year,
For the Stock Show in Rapid City.
Worked hard for the Cattleman's causes and clubs,
Sending a voice for what ranchers need….
And living each day in the life of his dreams.
The finest of horses in 25 states,
Sold yearly at Seven-Down
Horses for workin' and horses for show,
The Crago name's known all around….
On magazine covers they're sure to be found.
Ooooh, Oooooh, Ooooo-ooo-ooooh,
This is where he belongs,
Ooooh, Oooooh, Ooooo-ooo-ooooh,
Singin' his cattleman's song!

I am a semi‐retired rancher on the Redwater River in Spearfish Valley. With my three sons and their families we raise, breed, and sell quarter horses for show and for their cow sense. We also have Angus cattle and a few sheep. For crops we grow alfalfa and grass.
My grandfather Peter Crago was an English coal miner who first settled in Michigan. After hearing about the gold strike in the Black Hills, he took a train to Bismarck, ND, and from there walked behind a wagon train to Lead. He and his wife bought the homestead we live on today in 1887. We have the original deed, which is a single sheet of paper saying the homestead lies between this person and that person's land. Grandpa Pete planted ten acres of apple trees. Some of these 1000 trees are still alive today. During the Depression apples and produce from our huge garden kept us in food and money. We would take the produce up to Lead and Deadwood and sell it to the grocery stores or to different ethnic groups who had stands set up in the alleys all over town.
My dad Charles turned our ranch more toward beef cattle. Two of our sons, Bruce and Ralph, and their families run the Crago Cattle Company. For over 20 years we had to herd cattle twenty miles north of Orman Dam for summer pasture. In the fall we herded them back to Belle Fourche to the sale barn. Now we trucked them to town. Chuck and his wife run the Chuck and Mary Crago Quarter Horse Ranch. Everyone in the family pitches in when there is work to be done. In the fall many work getting horses ready for the big quarter horse sale which we've held for over 20 years. Everyone also helps when it's time to brand and vaccinate calves and steers.
My favorite subjects in school were math and art. I went to the Spearfish Training School. My two brothers and two sisters and I rode the bus to town. When I was a senior, Al Carlstrom and I were cocaptains of the football team. Although I've lived on two or three ranches, I've never lived more than ten miles from where I live today. In 1987 the Crago Ranch received a SD Century Farm Award for being in the same family for over 100 years.
I was on the board of directors for the South Dakota Stockgrowers Association for fifteen years. During my term as president from 1974‐1976, I went to Washington, DC, to visit our representatives and senators and talk to them about beef and cattle issues.
In 2001 I was honored as "Stockman of the Year" at the Rapid City Stock Show. At this year's Stock Show my granddaughter Kristy used my horse Dunny (Mr. Beckwith Dun) in the ladies' division of the working cow horse event. She has ridden him before and won several times. This year she gave the buckle to me. I'm very proud of the buckle and of her.