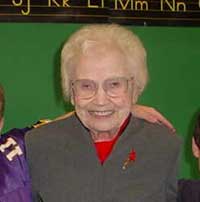 "Simple Things"
Words and music by Cory Tomovick
with Mrs. Hansen's 5th Grade Class
©2003 Cory Tomovick
Mrs. McMacken came into our classroom.
1907 was the year she'd been born.
For 27 years she's been a teacher.
Now she was back in her student's room.
She and her husband raised eight children.
They grew up in the town of Timber Lake.
In 95 years life has changed.
It's still about simple things.
(chorus)
Simple things- oh, simple things.
Like the people we love, the work we do,
and our communities.
These are the simple things.
Oh, simple things.
She remembers her father reading to her mother
by the light of kerosene.
She can recall his voice so clearly.
He read from the paper and magazines.
Her twin sister and her played house
in the roots of old trees.
Life is not about what we possess.
It's all about simple things.
Mrs. McMacken now lives by herself.
Her husband and two sons have passed away.
But she is still spry and works the puzzles.
She plays bridge and walks every day.
She told us there was a time in the depression,
When she and her family lost everything.
But life is not about all those things.
It's all about simpler things.
Life is not about what we possess.
It's all about simple things.

My name is Bertha McMacken. I was born at Tyndall, SD on June 12,1907. I always had a playmate handy because you see I had a twin sister named Anne. And we were the best of friends.
There were many good times for me as a child. I remember playing house in the roots of the trees that grew behind our farm home as well as in the granary. Wemade our own fun because in those days there was no electricity so we had no TV.
In those days we made do. We didn't know times were hard. We had each other and that is what was the most important.
I attended school at Springfield. Talk about change. Do you know it is a prison now? We used to be able to stand on the banks of the Missouri River and watch it rush by. It too has changed, now that mighty river is only two small trickles on either side of a sandbar.
I'll never forget hearing my father reading to my mother at night. Especially the night he read a story about hyenas. I hardly slept that night for fear they were sneaking around our yard.
My father was the nicest, gentlest man I ever knew. He worked hard on our farm and I never once heard him raise his voice. It was his hunger for knowledge that inspired me to become a teacher.
I met my husband Francis at a barn dance. We celebrated sixty‐one years together, and had eight children including our own set of twin girls. What a joy they have been too! Even today I ask myself, "What would I do without them?"
I taught for a couple of years before starting my precious family. You see in those days after you were married you were not allowed to teach so I took a few years off. Then 18 years later they asked me to come back and help out, and I stayed for 25 years. One year my classroom had 56 students in it.
In those days my day started off with "I'm a Little Teapot" and "My Country Tis of Thee" followed by stories of Dick and Jane playing with Puff and Spot.
Life goes through many changes. The passing of my dear husband and two sons was very difficult. I treasure the loved ones I am blessed with greatly. You see I have twenty‐seven grandchildren and thirty‐four great‐grandchildren at last count.
I enjoy reading and doing crossword puzzles, but my favorite pastime is playing bridge.