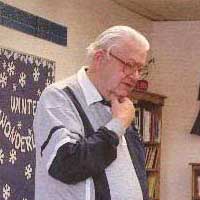 "Sometime Something Happens"
Words and music by Hank Fridell
with Mrs. Kellogg's 5th Grade Class
©2002 Hank Fridell
Grew up with Jack Armstrong on the radio
I rolled my hoop and I shoveled snow
I used to walk with my best friend Dean
I loved cornbread and beans
Oh Mrs. Smith in Milo taught me to read
And I'd buy Big Little Books instead of ice cream
Titles like Freckles and the Lost Diamond Mine
These days I read four books at a time
(Chorus)
Sometimes something happens that sets your life in motion
It could be a lucky buckeye, or your brother Max
It could be a war or loving little babies
It could be the people you like or the people who like you
I worked in a war plant moving bullets for guns
I got so bored I made it fun
After I trained I went to the Philippines
The war changed everything
I was a psychologist, a professor and a teacher
And after 26 years of teaching teachers
They named me Distinguished Faculty at B.H.
I was proud, I was thrilled
There is a center that I hold dear
Marion, we've been married 50 years
Oh, 30 foster babies and 6 kids of our own
We've watched how they've grown
(chorus)
The years since Babe hit 60 runs
I've have written about every one
I've done my best with a certain style
I've made people smile
The year of 1927 was really "Grand." Charles Lindbergh flew across the Atlantic Ocean, Babe Ruth hit 60 home runs, and Walter Higbee was born.
Walter Higbee was born in Milo, Iowa in 1927. Walt was born to Mabel and C.M. Higbee. He was the middle child of six children and Walt broke the tie ‑ 4 boys, 3 girls.
When he was young he lived to play hoop and guider. He drove his hoop and guider to school and parked it outside the school building. The iron ring from a barrel and the wooden guider gave Walt hours of fun as a child. Beginner, intermediate, and expert were the levels of challenge.
Favorite hobbies of Walt's was, and still is, cheering the Cubs baseball team, and collecting Big Little Books. When he earned ten cents the hardest decision was whether to choose a Big Little Book or an ice‑cream cone. The Big Little Books usually won over the ice‐cream.
When school let out in May, he and his friends saved their hard earned money to blow it all off at the 4th of July Festival, his favorite holiday. The money burned a hole in their pockets, therefore they spent it on sweets and ended up going home as sick as a dog, and stayed that way for 3 days!
In High School Walt shoveled snow for 25 cents, and mowed lawns for 35 cents, but he knew there were bigger and better things. He finally found that bigger and better thing at a war plant in Des Moines, Iowa making bullets for guns, which paid 65 cents per hour. His job became more interesting when he started stamping the boxes of bullets. Mr. Higbee quotes, " The world was depending on me to get the bullets to the soldiers."
Mr. Higbee graduated from Iowa and Minnesota colleges and has devoted most of life teaching teachers to teach and how to relate to people. While teaching at B.H. Mr. Higbee told a story to his students about the lucky " Buckeye." He passed out buckeyes to use for good luck on their tests. One day a student entered a complaint that he got a "D" instead of an "A" and said," You can have this "buckeye" back, It didn't work! Mr. Higbee told him that the buckeye would have worked a lot better if he had studied.
A very special part of Walt's life is his family. He has a wife, Marion, six children of his own, and has taken care of foster babies. Marion and Walt loved having babies around, therefore they cared for over 30 newborn infants. They feel it made a difference in each child's life.
Walt Higbee's philosophy of life is, "Take your work seriously, but don't take yourself so seriously. Be able to laugh at yourself and learn from your mistakes."