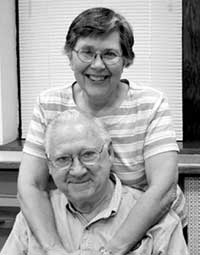 "The Best Gift"
Words and music by Scott & Sheryl Simpson
with Mrs. Little's 5th Grade Class
©2002 Scott & Sheryl Simpson
The Best Gift

- Scott Simpson
(For the Aman Family)
She could have been a "Little Rascal," dropping dolls off the shed
When the snow piled to her window, she'd slide down without a sled
All she had were rag dolls, but she never wanted more
The Best Gifts she ever got weren't purchased in a store
He never hung a stocking, never had a Christmas tree
But the frozen pond was big enough to hold his Christmas memories
Ice skates and hockey sticks and family galore–
The Best Gifts he ever got didn't come from a store
Somehow they came together– made a family
Had one boy, two girls, a world of memories
They taught their children how to love, what Christmas ought to be
That the Best Gift you can give is always one that's free
Then one year it happened– their fortune took a turn
An illness left him paralyzed, a fate he hadn't earned
To know how they survived it, you'd have to understand
How he blessed her from his heart, how she blessed him with her hands
You see, they both believed in God, had a faith strong and sure
They prayed with all their might that there would be a cure
The doctors said it was impossible– he'd never walk again
But where the doctor's knowledge ends, the miracle begins
Somehow they stayed together– a loving family
Their children grew to cherish each precious memory
They both can hug their grandkids now beneath the Christmas tree
The Best Gift you can give is love… and True Love's always free.
When we first began Elders' Wisdom, Children's Song Mrs. Little's 5th grade class took it on themselves to honor a couple in Spearfish who have made so much difference in the lives of others.
Merlyn & Shirley Aman were interviewed at East Elementary School and with the assistance of songwriters Scott & Sherly Simpson. Merlyn and Shirley were honored at the school with this song.