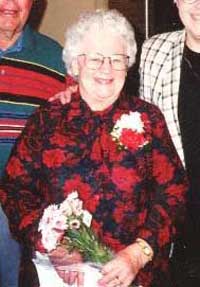 "Don't Be Afraid to Try Something New"
Words and music by Marianne Fridell
with Mrs. Schlup's 4th Grade Class
©1999 Marianne Fridell
Georgia Jensen
I grew up in Lead when times were tough
But we always found ways to have fun enough
My parents were teachers and their parents, too.
So I always dreamed of something new
But when it came down to the nitty-grit
Teaching was just too good a fit
Sewing and cooking, then crochet and knit
The bottom line is this: I like kids.
(chorus)
You can do anything you want to
Don't be afraid to try something new
Big or little, boy or girl
Give it a shot, give it a whirl
I things get tough don't get upset
There's always a way to get through, it's a sure bet
It's not in a store, it can't be bought
You've just got to learn to laugh a lot
Laugh a lot, laugh a lot, laugh a lot, laugh a lot
I've traveled this country from east coast to west
Seen much of the world and want to see the rest
Egypt, the Philippines, Hawaii flights
And each place I've gone I've found a rock I like
Our bags get heavy as I pack the rocks in
If Alvin asks I say, "Honey, that's just half of them"
These souvenirs don't cost a single cent
Just the overweight charge and a back that's bent (chorus)
I welded in shipyards in Oregon
Seen lots of places on my own
But my favorite spot of all when I have to fess up
Is a ranch north of Whitewood where our kids grew up
I've never had a pay job on this land
But I've drove a tractor, raised 3,000 hens
Doing lots of runing to keep things humming
If you think I didn't work you have another thing coming (chorus)
Georgia Jensen was born in Colorado in 1925. She was named after her grandfather, George. She moved to Lead with her parents and sister when she was two years old.
She has been married to Alvin Jensen for 56 years. They live on a ranch north of Whitewood where Alvin was born. Georgia is very proud of her 4 children, 2 girls and 2 boys. She has 14 grandchildren and 2 great grandchildren.
Georgia is a great supporter of 4‑H. She feels 4‑H is one of the best programs for young people because you learn new things along with many life skills. When her young daughter wanted to join 4‑H, Georgia agreed to go with her to the first meeting. They asked her to be a leader and she agreed. After being a leader for many years, she is now a resource person for 4‑H.
As a child, Georgia loved going to school. She enjoyed skiing, ice‐skating and shoveling lots of sidewalks in Lead! Her parents had a great outlook on life and as a family; they did a lot of laughing!
She enjoys traveling and telling people about the places she has visited. A favorite hobby is to collect rocks as she travels to different places. She always returns home with a very heavy suitcase or two! After many rocks are collected, she puts them outside of her house to make room for the new rocks she will collect on her next trip.
While she was in college, she was a welder in the shipyards during World War Two. This is the only paid job she has ever had! Georgia is quick to tell you that you can be paid for working in ways other than money. She is referring to her countless hours of volunteering with young people. Of course, she has also worked many hours helping on the ranch too.
Georgia never gets upset. She enjoys life to the fullest. She believes in laughing a lot! Her advice to everyone is to not be afraid to try something new and to laugh a lot!