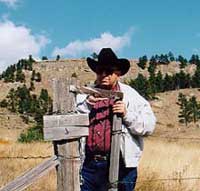 "Through the Land of Chief Red Cloud, 
Together We Go"
Words and music by Larry Long
with Mrs. Crofutt's 5th Grade Class
©1999 Larry Long
Oliver Swanson
(chorus)
Yippie-I-Ki-A, get along little doggies
Down to the Red Water Cottonwood base we go
Yippie-I-Ki-A, get along little doggies
Through the land of Chief Red Cloud, together we go
From calving time in early spring
Through branding time until they are weaned
Along the Red Water River flow
Beneath those tall cottonwoods we call home! (chorus)
Saddle up the horses it's time to ride
Those 4-wheelers are no friend of mine
Way up in those hills so steep
Driving cattle at five thousand feet! (chorus)
Push them on out for tow or three days
Then head back to gather the strays
Go on out, do it again
After three months those cowboys are men
After three months those cowgirls are women! (chorus)
With that 9-6 brand
Running beef on forestry land
From outside the borders cheap cattle come
Putting the US rancher on the run (chorus)
The cattle market has been reduced
To four main buyers, it's the truth
From the sale ring to that Denver hotel
On a big TV screen they're put up for sale (chorus)
The greatest man that ever lived
Was Chief Red Cloud who said in the end
We must learn to get along
Or the life we love soon will be gone! (chorus)
My name is Oliver Swanson. I was raised on a farm N.E. of Rapid City. I am a retired rancher. Our homestead is on the Red Water River. I will be 75 on October 25!
In the 75 years of my life, all but 6 1/2 years were spent raising food. I am proud of that.
Our "call name" on the CB radio is Cottonwood Base. This is because we have 100‑year‑old Cottonwood trees on our place. They are also over 100 feet tall. We have had 8 generations in South Dakota.
I was thinking the other day, that the greatest person of this area for the last 150 years was Red Cloud. Red Cloud was an Ogalala Chief. He said we have to learn to live with each other. He was a very wise man; he is one of the greatest men. I have made it in the ranching business because of luck, and partially from listening to what the "Old Timers" have to tell you. Learn your place, and the land you are on. What are the hazards on your place? What do the cattle need for protection? We live in a well‑protected area. That's what is good about our ranch.
I had been in the Navy. I had been an engineer for Boeing, and I knew what I was coming back to when I came back to ranch. I have a wonderful family and a wonderful wife. I am very happy with what I have done in my life.
The difference between Ranchers and Farmers…Attitude.
I may not advise people to go into ranching today, but I am very proud of our ranch. I am also proud of the fact that we have worked hard to better the land. That has been very important to us.