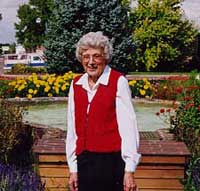 "Wonderful, Beautiful Life"
Words and music by Larry Long
with Mrs. Cooper's 5th Grade Class
©1999 Larry Long
Hazel Repass
When I was a young, used kerosene lamps
The house heated with a wood stove
We carried the wood into the house
Of family and friends we called home
Chorus:
Wonderful, Wonderful, Wonderful life
Beautiful, Beautiful, Beautiful life
With a heart filled with laughter
Each day filled with a song
Wonderful, beautiful life
I was the youngest I loved the outdoors
With my brothers I tagged along
With dad in the winter on a horse drawn bob-sled
Crossing fields of snow with a song   (chorus)
If you are unhappy what should you do?
Go visit somebody whose lonely like you
From the man on the moon to this classroom
Wonderful, beautiful life   (chorus)
My brothers whittled twirling spinning tops
I loved to cut out paper dolls
Colorful hearts on Valentine's day
From wall paper catalogs   (chorus)
With a big garden Mother raised us all
On honey whole-wheat homemade bread
A wonderful cook since I was small
A hug and a kiss before bed   (chorus)
If you have a book you have a friend
Never give up go at it again
From the man on the moon to this classroom
Wonderful, beautiful life   (chorus)
My name is Hazel Repass. I was born in Trail, Minnesota in 1904.
One time we played hide the thimble with Mother's little silver thimble. One time when I was to hide the thimble I didn't know what to do; I stuck it in my uncle's ear. They came in but never could find it. No wonder! We had fun.
In my life the most important thing that happened to me was everything. My dream was to be a good teacher and to marry and have a wonderful husband that loved me and our children. My husband loved life like I do. We would go off together and have a sandwich and fruit. We loved animals and everything around us. He loved music, too.
I was a lover of poetry and I introduced poetry to my students. Some students got to like poetry. We'd take time to memorize poetry and when it became too troublesome, I'd have another plan. You always have to have two plans for everyday.
When one doesn't work, try another, play a little game or sing a song. One year we gathered tumble weeds and made them into a big snowman. We got dried soap and got beaters and made a big froth. We painted the whole thing until it was all white and brought carrots and got a hat and that was our frosty the snowman. We sang and wrote about him.
One Christmas there was a stick of wood in my stocking and I cried. We usually got nuts. My older brother was a tease, and he cried too because he had put the stick in my stocking. I love to play jokes on people. I can laugh at myself.
First you need kindness when trying to raise children to be good human beings. Then believe in yourself and respect your parents and others. Don't be afraid to try something. Never be afraid of failure. Go at it again and come back up. Be proud of
yourself.
I was never bored with life. I love people. I love children. I still sing in the church choir because I love it. I spend most of my time visiting shut‑ins who can't get around.
I love life! I walk a mile a day and call on people. I bake and entertain myself and I love to read. Read; please read. Have a book; it is your best friend. Remember to smile and sing every day; that will help you.