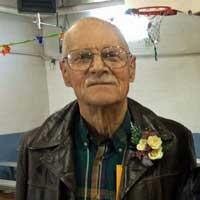 "Enjoy What You Do"
Words and music by Scott Simpson
with the class of Mrs. Mason's Band Students
©2014 Scott Simpson
He was from old Yankton. . .
Went to a small, farm-town school.
Born in 1936, when outhouses were the rule.
Used one book-no computers! Times were different then: school was a book, paper, pencils and pens. . .
Walk to school, then walk home again.
Math and science, the piano keys too,
These are the things Mr. Olofson was very able to do.
So he headed to Aberdeen to learn how to teach.
He would find a way, every student to reach,
Patient and caring to each!
Chorus:
Be smart, be honest,
Always be kind.
Be religious, be a worker,
And you just may find
You don't do it for the money,
You do it with heart.
Enjoy what you do-
That's a very good start!
Coach, teacher, father, with three kids of his own:
Two boys, one girl, a loving home!
Colorado, Utah, the Black Hills and California they'd ski.
Get out in nature and you'll see, a body in motion is truly free!
So he started ski clubs for students in schools
From California to Hot Springs,
He showed them skiing was cool!
Now when it's warm he rides his bike 100 miles at a time.
It doesn't matter how long or how steep the climb;
Some good exercise isn't a crime!
Chorus
Enjoy what you do
That's a very good start!

How far have you ever ridden your bicycle? How high have you been on two slippery boards with two skinny sticks to help you keep your balance?
Well, this is what we know. Mr. Olofson loved to ride his bicycle and would ride from Smithwick to Oelrichs and back again after work. He just might ride 100 miles in one day if he felt like it!
He also loved flying down mountains on skis. He liked it so much he helped hundreds of young people learn to ski.
Mr. Olofson loves music and has shared his enjoyment with his church (organ and piano) and has also helped students at Oelrichs (singing with a HS choir) and accompanying students at music contest.
Mr. Olofson enjoys sports and he enjoys the outdoors and he enjoys music but he especially enjoys people like his family and his neighbors of the world. He believes you should enjoy the work you choose to do. He says "Enjoy What You Do".