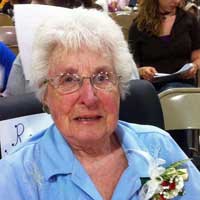 "It Don't Mean a Thing"
Words and music by Scott Simpson
with Mrs. Carson's, Miss Kelly's and Mrs. Mason's Students
©2013 Scott Simpson
Ms. Putnam taught 3rd grade, she taught music,
She taught home ec., math, chemistry
She taught at Edgemont, Hot Springs, Gordon and Oelrichs.
Loneman, Red Cloud, and Windy Hill you see…
It don't mean a thing if you ain't learning
Doo-wat doo-wat, doo-wat doo-wat, doo-wat doo-wat
It makes a difference, hear us sing, when you do that learning thing.
Doo-wat doo-wat, doo-wat doo-wat, doo-wat doo-wat
Ms. Putnam gives her students all she's got
With a teacher like that you want to learn a lot—Yeah
It don't mean a thing if you ain't learning
Doo-wat doo-wat, doo-wat doo-wat, doo-wat doo-wat
It makes a difference, hear us sing, when you do that learning thing.
Doo-wat doo-wat, doo-wat doo-wat, doo-wat doo-wat
She was an only child, born down in Chadron
Loved swimming, skating and movies…
Loved raising 3 daughters—gave her 10 grandkids
20 great-grands, that is why she taught us what we sing…
It don't mean a thing if you ain't learning
Doo-wat doo-wat, doo-wat doo-wat, doo-wat doo-wat
It makes a difference, hear us sing, when you do that learning thing.
Doo-wat doo-wat, doo-wat doo-wat, doo-wat doo-wat
Ms. Putnam gives her students all she's got
With a teacher like that you want to learn a lot—Yeah
It don't mean a thing if you ain't learning
Doo-wat doo-wat, doo-wat doo-wat, doo-wat doo-wat
Makes a difference, hear us sing, when you do that learning thing
Doo-wat doo-wat, doo-wat doo-wat, doo-wat doo-wat
It don't mean a thing if you ain't learning
Doo-wat doo-wat, doo-wat doo-wat, doo-wat doo-wat
It makes a difference, hear us sing, when you do that learning thing.
Doo-wat doo-wat, doo-wat doo-wat, doo-wat doo-wat

Lois was an "only" child born in Chadron, Nebraska. Because she didn't have siblings, she received ALL the discipline-none to share!
Her father worked for the railroad and her family enjoyed their pass to ride "anywhere". They rode on a train Pullman car. Her family traveled to Los Angeles, Chicago and all over.
The train was only a block away from Lois' house and did make a lot of noise. The steam engines each had a special whistle signal that announced their arrival into town.
Lois did not ever work for the railroad. Only the men would do this. They worked shifts. If they were not railroad men, then they worked for the college.
As a little girl, Lois had Mom and Dad and an Aunt giving her daily instructions. Even though she had three bosses, she really liked her Aunt. Lois also liked biking, skating, kickball, baseball, and swimming (especially swimming). Lois tried to ride a big, white horse but she and horses just did not get along!
When Lois began attending school, she did not go to the public school but walked to the college "training school". Student teachers taught her classes. Sometimes the students would give their teachers some mischief-as part of their training!
During her school days, Lois walked a lot. She would walk to piano lessons, Sunday school, and back and forth to school (four times because of lunch hour). At recess, she would play "Annie, Annie I Over" and swing and ride the merry-go-round. If Lois ever had a candy bar it would cost 5 cents. She did not have soda pop.
As a teenager, she liked to be with her friends and go bike riding. She would go to Chadron State Park and swim or go to a movie (20 cents) or skate at the rink.
When Lois grew up, she married Donald Putnam, a rancher. They ranched in Harrison, Nebraska, and also lived in Gordon and Edgemont and Florida when her husband was in the Navy. They lived in many kinds of houses: ranch house, log house with no indoor plumbing and a bunkhouse. She and her husband had three daughters- Pamela, Lee Ann and Donna Sue. They all were trick riders. Lois ended up working with horses to help her children even though she and horses "did not get along". Her daughters all married and gave her 10 grandchildren and 20 great grandchildren. One of her greats is a famous saddle bronc rider-Chad Ferley.
Lois always enjoyed teaching school. She liked students of any age and taught many subjects such as: Music, Reading, Math, Chemistry, English and Home Ec. (cooking, sewing etc.) Her teaching jobs were in Gordon, Ne., Edgemont, Hot Springs, Oelrichs, Windy Hill (taught Mrs. Carson as a 1st grader), Loneman, and Red Cloud.
Now that Lois is retired, she enjoys playing the piano and organ, traveling, and seeing many good friends. She still gets together with a friend from Kindergarten.
Lois has a black poodle named Cricket. The name came from a little unwelcome visitor at the community center.
Lois's advice to students is this: Pay attention and take your work seriously because it will make a difference.