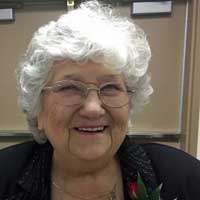 "The Kids Call Me Mae Mae"
Words and music by Hank Fridell
with Mrs. Somer's 4th Grade Class
©2017 Hank Fridell
I grew up on farm, rode my horse to school
We farmed beets and oh, I loved the bum lambs,
We finally got 'lectricity, lights, and a TV
When my brothers left, I was my father's right hand
Chorus:
The kids call me – Mae Mae
Each child grows up – to be unique (snap)
The kids call me Mae Mae
When you leave my house there's always a treat (snap)
Went to school in Vale, only nine in my grade
I liked Math and drove from Denver in a bus
The Superintendent wanted to change the annual, we didn't agree
So we spoke up and our Coach stood up for us
Chorus
The happiest time in my life, was when I married Duane
We moved around and settled in Custer we did
Raised a family, we traveled all over the west
Now I have almost -13 grand and great grand kids
Chorus
Wanted to be a teacher and I got my chance
By providing child care nearly 50 years
When I was president of WEAVE, we purchased the shelter here
I'm proud of my childcare and being a volunteer
Chorus
Retirement's not for me, I enjoy kids—they make me young
I keep busy, and kids keep me on my toes
Maybe someday I'll go to Denmark, where my family was from
But I like Custer, it's where I call home
Chorus

Mae Kleiman was born in 1936 near Vale, SD. She grew up with her 6 brothers on a farm where they raised animals as well as sugar beets. Not only was Mae the youngest in her family, but she was also the only girl! Once her brothers had grown, she became her father's helping hand. She helped on the farm from feeding animals to cleaning.
Mae attended and graduated from school in Vale, SD. There were 9 students in her graduating class in 1956. After graduation, Mae did some traveling around the United States. Mae met Duane Kleiman in high school. They were married in 1957 when he was home on leave from the U.S. Marines. Mae and Duane were blessed with 3 children. Skip, who now lives in Utah, Denise, a nurse in Pringle, SD and DeDe- also a nurse who lives in Rapid City. Mae has several grand children and great grandchildren too!
While residing in Custer, Mae became the President of WEAVE. She was honored with the South Dakota Humanitarian Award for her work. It was during this time that Weave was able to purchase their first shelter in Custer.
Mae had always dreamed of becoming a teacher. She decided to fill that dream by opening up a daycare in her home. She has been a daycare teacher for over 50 years! Mae has held many positions in her life, but this one was the position she found to be the longest lasting and most fulfilling. During the time Mae has provided daycare, she has been accused of teaching the babies to say Mae Mae instead of momma or dada. Mae says that just isn't the case! After hearing the other children say her name enough times, the babies just pick it up!
Mae is well known in the Custer area for her childcare, but also the love and attention she has given to so many of the children in the area. Each child knows they get a snack before going home for the day. Mae has even had adults that return to visit and insist on having a snack from the jar before they leave.
Mae has no plans of retirement. She loves teaching children and loves being a part of so many lives. She has indeed been a teacher of many- well into the thousands! We enjoyed having the opportunity to have Mae join us in our 4th grade class! Thank you Mae for touching so many lives! It has been an honor!