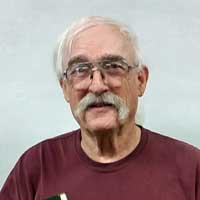 "Be Your Own Person"
Words and music by Mike Linderman
with Mr. Parson's 5th Grade Class
©2015 Mike Linderman
I was born on Friday the 13th of May
It was a stormy night in nineteen thirty eight
Even though it got off to a spooky start
Life was good growin' up on the family farm
My parents taught me to do the right thing
About working hard and responsibility
That the chores got done and the fields got plowed
The same principles I still live by now
(Chorus)
Be your own person, proud of your own life
Listen to others, be open to advice
Learn from others' mistakes, know you can say 'No'
Take care of yourself, believe in God, you're good to go
One day I found an old Model-A
And made a hot rod and began to race
I found my passion fixing up cars
And went to trade school to learn the art
I painted cars and then sold parts
Then my dad offered me the family farm
So for twenty years the fields I plowed
And made a book about our old home town
Chorus
I came to Custer when I left the farm
Bought a body shop, bought and sold cars
Now I have sixty on my property
And my medicine wagon, a '24 Model-T
I'm a collector of license plates
From other countries and all fifty states
And I'm retired, do a medicine show
With the Model-T, magic tricks and jokes
Bridge: Life needs fun and joy to fill the years
Laughter is better than tears
Chorus

Life for Gary started on a farm in Nebraska. Occasionally he would jump out of the hayloft into the piles of crops. When Gary was young his favorite tradition was seeing Santa at the church. Gary went to public school, while he was in school his favorite games were Fox and Goose, and Mother May I. One time his teacher wanted to put soap in his mouth for being accused of swearing. He actually put the soap in his own mouth, because he didn't want the teacher's nails in his mouth. For high school initiation the seniors made Gary dress-up like a girl and eat a "cat's eye" (peeled grape).
Family is an important part of Gary's life. Gary's mother just turned 100 years old on Christmas Day 2014. Gary has been married to his wife Luanne for twenty-four years. When Gary was growing up on the farm his parents taught him about work and responsibility, by gathering eggs, and milking cows. Gary learned another important lesson when he and his friend smoked one pack of cigarettes each. They also threw up because they were sick from the cigarettes.
Gary found a very old Model-T in a grove of trees in the 1950's, then eventually drove it to the Black Hills. When Gary grew older, he fixed his Model-T several times on the way to the Black Hills. He collects cars and license plates, he has 86 from the year 1951 from Nebraska, and he wants all 93 county's plates. He sold brand new automotive parts for cars, at a Plymouth Dealership. Gary loved to play the trumpet. His dad sold a bunch of iron and got over one hundred dollars for it, then he bought Gary a trumpet. Gary eventually played his trumpet in a marching band.
Gary had many different jobs throughout his life. His favorite job is fixing up cars because when he was in high school he found a Model-A under a Cottonwood tree and decided to buy it and he fixed it up. After he fixed it up he raced and won almost every time. His first job was working on the farm. He enjoyed riding the tractor and chasing rabbits. Today Gary works at the Custer Medicine Show. Even though Gary is retired, he still fixes up cars.