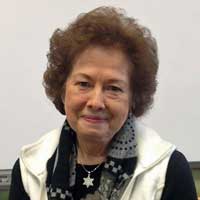 "You Only Have One Life to Live"
Words and music by Marianne Fridell
with Mrs. Hartman's 5th Grade Class
©2015 Marianne Fridell
I grew up in the Buckeye state
Our life was tough, that's no debate
3 sets of twins—3 sons, 3 daughters
Lots of work, no running water
If that was all, we would have got by
But dad got hurt. He almost died
I grew up taking care of him
Missing school, missing out on my dreams
Friction with mom getting in-between
–I ran away from home when I was thirteen. But I learned…
(Chorus)
Kindness is to do and say
The kindest things in the kindest way
To be forgiven, you have to forgive
You only have one life to live
My older sister said there's no doubt
"I'll take this naughty girl and straighten her out."
She took me up to Michigan
Where I graduated according to plan.
I moved to Custer, still a girl
And found the most wonderful man in the world
At a picnic on the 4th of July,
the fireworks weren't just in the sky. But I learned….
Chorus
As a child, I didn't have much
One birthday present to share with the bunch
Now we have more than enough
But what is precious and what's just stuff?
Treasures are made from memories
Of people we've loved and cared for you see
Objects remind us of those we've known
A museum of memories in our home. And we've learned…
Bridge
Caring for people: that's what she does
Everything she's done she's done with love
They always said she's a love machine
And now we all know what they mean. And we've learned…
Chorus
You only have one life to give. You only have one life to live.

Charlene Hartman was born on October 24, 1949 in Oakfield, Ohio. She was one of three sets of twins, all born within three years' time. Her brothers Donald and Ronald were born on October 24, 1948. Arelene and Charlene were born the next October 24th and then about a year and a half later, Paul and Paulette were born. Charlene remembers her family growing up without much money and had no running water. As a girl, she had just two blouses and two skirts, which they had made on their own. She and her siblings all shared a room and one gift on birthdays.
Charlene began caring for her father at a young age since he had been in an accident and become an invalid. She also would help her aunt Mary who owned a nursing home. Charlene developed a heart of compassion and caring for others. Her aunt Mary also taught her to make homemade noodles and bake homemade pies. This may have been the start of her exceptional talent for cooking and baking. When she was 8 years old, she had her first job which was watching the pastor's kids and cleaning their house on the weekends for just 25 cents.
At age 13, Charlene ran away from home. Her older half-sister convinced her mother to let her come live with them in Michigan and she promised to, "take that naughty girl and straighten her out." Charlene lived with them in Michigan through high school where she graduated at age 17. From there, she had the opportunity to come to South Dakota with a couple to work in a children's home.
It was here that she met her husband, Ted, at a fourth of July picnic. The two fell in love, got married, and moved to Kansas where Charlene became the head cook for a college at the age of nineteen. They eventually moved back to Custer to work at Brainerd Indian School. Since then they have had over 80 foster kids live with them in their home and cared for over 100 elderly people. They are still caring for the elderly through Rose Haven, their assisted living home here in Custer. Ted and Charlene have three boys of their own, Bill, Mark, and Tod, and ten grandchildren combined, who all live in Custer.
Charlene loves to travel and has been to many places, including England, France, Scotland, the Bahamas, much of the United States, a mission trip to Haiti, and to Israel twice. She dreams of going back to Israel one more time. Charlene also likes to sew, decorate, and entertain and loves anything from the Victorian Era. She says her house is like a museum with antique furniture, artwork, roses, and lace. She also collects dishes and hats. Her favorite book is the Bible and her words to live by are, "Only one life, it will soon be passed. Only what's done for Christ will last."
Charlene's advice to us is, "Listen to your parents, do what they tell you. Go the extra mile. Life isn't always perfect. Just be your very best." She says it takes less muscle to smile than to frown and to be forgiven you have to forgive. Thank you Charlene for sharing your life with us!