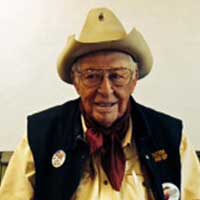 "Those Old Cowboy Songs (The Trail Headed West)"
Words and music by Keith Burden
with Ms. Dahl's 5th Grade Class
©2014 Keith Burden
Cowboy songs are the best…they speak of a trail headed west
Where the cattle are fat and the horses run free
Where life on the ranch taught me how to be me
I think I've seen life at it's best…ridin' that trail headed west
Those old cowboy songs tell the truth…the lessons I learned in my youth
"Can do" can carry a man through it all
Where the valleys are deep and the mountains are tall
You learn what to trust and respect…ridin' that trail headed west
Those old cowboy songs are just right…to sing by the campfire light
In the badlands or hills with my family and friends
Enjoying the beauty of nature again
I feel like I rode with the best…ridin' that trail headed west
Those old cowboy songs touch the soul…that spirit that never grows old
When God calls me over that last great divide
Well, "I never saw a bronc I couldn't ride!"
…I'll have to say I've been blessed…ridin' that trail headed west
I'll have to say I've been blessed ridin' that trail headed west

Don Husted was born in Iowa on March 20, 1931. He came to South Dakota as a youngster and grew up east of Pierre on a ranch above the Crow Creek Indian Reservation. When Don was growing up, they didn't have electricity, running water, or indoor plumbing. He attended school in a one room country school with first through eighth grade in the same room. He loved reading and history. By the end of fourth grade, he had read all of the books by Jack London, Zane Gray, Erskine Caldwell, and Will James. Don usually rode his horse the three miles to school each day. His family did have a car, but didn't drive very often, because gas was expensive at 10 cents per gallon. He eventually bought his own car when he was fifteen. It was a 1931 Model A Ford and cost him $150.00.
As a child, Don dreamed of becoming a cowboy. His favorite sport was rodeo. He started out by riding cows on his family's ranch and then graduated to riding broncs. He also loved to break wild horses which he started doing in seventh grade. This was his favorite job, but he did have many others, including his least favorite job of cultivating cane grass with a team of horses. One year, Don trapped 300 skunks and sold them for about $3.50 each. He used the money to buy cattle and that is how he got started in the cattle business. Don said he always made money any way he could. He eventually became the General Manager of a large power company named Southwestern Power in Nebraska.
When he was 21 years old, Don was drafted into the military and trained with the 10th Mountain Division, Army special troops from 1952-1954. He was trained using skis, mules and rock climbing and for fighting in the mountains.
Don married his wife Jane in 1955 and they had five children – Dan, Tom, John, Cheryl and Jim. Family is very important to Don and he has enjoyed working with his family, leading chuck wagon trail rides through the badlands of South Dakota and doing the Custer State Park Buffalo Round-up for many years. They also have had their team of horses in the Gold Discovery Days Parade.
Horses have always played an important role in Don's life. Once he rode horse 75 miles in one day. Don said that there is nothing like the thrill of riding a bronc. And he never saw a bronc he couldn't ride. Don's advice to us is, "Don't ever say it can't be done. You can! You can! You can!" Thank you Don for sharing your life with us!