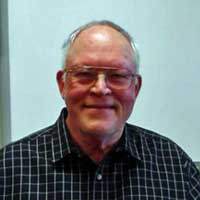 "Lucky"
Words and music by Mike Linderman
with Ms. Dahl's 5th Grade Class
©2013 Mike Linderman
I was born outside of Pringle to a rancher and a miner
I helped Dad in the feldspar mines for fifty cents a day
My favorite classes growing up were the end of school and recess
I loved to hunt and fish and couldn't wait to get away
I dreamed of South America, finding emeralds and gold
And took two years of college to study geology
At twenty-two I took a job with an oil company
My one condition was that they send me out of the country
Here's some advice I'd like to tell
Follow your dream and do it well
"Opportunity comes but once," that's a myth!
It exists every day we just need to recognize it
I've done well financially
Have a wonderful wife and family
If you ask me
I'm LUCKY!
I worked in oil fields then bought an oil service business
Built it up and sold it and then did it one more time
I lived twenty-five years in South America and twelve in Africa
Plus Ireland and London before deciding to retire
While living overseas my favorite place to visit
Was back to South Dakota because I liked coming home
Of all the places I have been I still think the Black Hills
Is one of the most beautiful of any I have known
Chorus
I met my wife in Ireland, her first name is Oonagh
You need to know that Oonagh is the Gaelic word for 'one'
She turned out to be the only one for me
We have nine grandchildren, three daughters and a son
While working overseas I didn't have much trust in stocks
And put most of my money into South Dakota land
I was named the South Dakota Tree Farmer Of The Year
I believe in being the best steward that I can
Bridge:
How would I want to be known?
A good citizen, a good husband, a good Dad
I think I've accomplished those
Chorus

Who is Leonard Wood? Leonard Wood was born Oct. 7, 1938 in Hot Springs, SD. He grew up on his parents' farm near Pringle. Some of his favorite memories are of working as a "gofer" for his father who was a rancher/feldspar miner. His wage started at 50 cents per day and eventually worked up to $1.00/hour. Leonard went to school in Pringle through the 8th grade and then finished high school in Custer. While growing up, Leonard enjoyed hunting and fishing and playing baseball.
Leonard is a rock hound and has a big collection of rocks and fossils he has collected with his dad over the years. He went to 2 years of college to study geology. Leonard had dreams of going to South America to find emeralds and gold. At age 22, he took a job with an oil company on the condition that they would send him out of the country. He worked oil rigs, then as a mud engineer, and then quit and went into the oil service business. He did pretty well in the oil business and decided to put most of his money into land, because he didn't trust the stock market.
Leonard got to do a lot of traveling through his work and lived in Texas, Venezuela, Columbia, Argentina, Peru, Nigeria, Libya, Ireland, and London.
One adventure he remembers is that he was working in Libya during the Reagan-era bombings. His wife called to tell him that we were bombing Libya and he said he figured that was the case with all the explosions and missiles.
Leonard met his wife, Oonagh, while he was in Ireland. They now have four children – Joe, Jennifer, Jessica and Jolene – 9 grandchildren, a dog named Bo, and a cat named Mongo. When asked what he would want to be known for, Leonard said, "A good citizen, a good dad, and a good husband."
Leonard jokes about being a "couch potato", but we know that's not true. He enjoys being outside. In his spare time, he likes to hunt elk, deer, antelope and pheasants. He also likes to travel and has been on six safaris. Once he shot a lion that was only about fifteen feet from his wife! Leonard also likes fishing and baseball.
When asked for one word to describe himself, Leonard said, "LUCKY!" His advice for us was to follow your dreams and whatever you do, do it well. And opportunity is out there every day; you've just got to go after it. Thank you Mr. Wood for sharing your life with us!