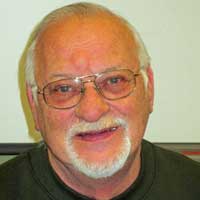 "Billy Was a Good Boy"
Words and music by Keith Burden
with Mr. Trandem's 4th Grade Class
©2013 Keith Burden
When Billy was a baby he had a mama and a daddy
He had an older sister and a Topsy Dog
He was born in Deadwood, he grew up in Lead
Way up in the Black Hills they had everything you need
Billy was a good boy, Billy was a nice boy
When Billy went to grade school he took along a chipmunk
He kept it in his pocket and put it on a leash
There was skating and skiing, camping and fishing
He took apart alarm clocks but never really fixed 'em
Billy was a good boy, Billy was a nice boy
But sometimes, sometimes. Billy didn't do what the teachers said
Billy made model cars, but when he went to high school
He wanted a real car then, and here's what was cool
His dad said if you can't build it, you don't really need it
And they built a Model T Roadster. Man, you should've seen it
Billy was a smart boy, Billy was a talented boy
But sometimes, sometimes. Billy didn't do what the teachers said
He worked at Finola's, he worked at the Western Drug
When he finished High School he worked at the Homestake Mine
He played in a lot of bands, studied music at college
He trained to be a teacher passing on his knowledge
Mr. T was a teacher, Mr. T was a band director
But sometimes, sometimes. Billy didn't do what the teachers said
He's a cabinet maker, a cloud peak climber
A motorboat builder, a motorcycle rider
He's an arrow maker, an arrow shooter
A husband and a father, a grandpa and a friend so rare
We're here to tell you, Mr. T is a man who cares
But sometimes, sometimes. Billy didn't do what the teachers said
He asked, "Did I do my job?" He asked, "Did I do my best?"
He asked, "Did I help somebody?" We know the answer is YES!
Ooooo Ooooo Ooooo Oooo Bill Tretheway

Bill Tretheway was born in 1944 in Deadwood, South Dakota. He had one sister that was two years older than him. Growing up in Lead, South Dakota was a blast for Bill. Some of his favorite things to do were catching chipmunks and training them. Then he and his friends would bring them to school in their pocket on a leash. He didn't think it would be a great idea for us to try that today. He also loved animals and had quite a few different dogs. His favorite was a German Shepherd named Shep. He took pictures of his dog, Topsy, dressed up in costumes and went around town trying to sell them. He doesn't remember ever selling one.
Mr. Tretheway has always been a very hands-on person. Some examples of this growing up were when he started learning archery. He wasn't interested in hunting, but he wanted to not only become a good shot, but make his own arrows too, which he did. He also loved taking apart alarm clocks. He said he would spend hours taking them apart and looking at how everything worked. However, he doesn't remember ever putting one back together. A final example of him being hands-on was when he wanted his first car. His dad thought about it and finally agreed with one condition: He had to build it from the ground up. His dad agreed to help, and two years later he had his very own T-roadster. Looking back, he thinks it was just a way for his dad to delay his driving for awhile, but he is thankful for the experience.
Bill enjoyed going to school. It sounds like his school in Lead was about the same size as ours with around 25 kids in a class, but his mind often wandered. He told us his report cards would say, "Billy is a good boy, BUT…." He was always thinking about how things worked and not about what the teacher was talking about. His favorite teacher was Ms. Jenny Hahn. She was beautiful and treated him nice. She had kind things to say about him. His favorite classes in school were woodworking, shop, and music. Music would end up being a huge part of his life.
High School brought more changes and new friends. He started working at a men's clothing store, and later at Western Drug. What he remembers most about high school was good friends and teachers who cared.
After college, Mr. Tretheway spent most of his career teaching music in high school. Bill was a perfectionist and always thought about how he could do things better. He would often worry about what kids thought of him, but received some great advice that he shared with us. A coworker told him, "Don't worry about what they think of you today. Worry about what they will think of you 10 years from now. " We think this is good advice.
We loved getting to know Mr. T. The "original" Mr. T in Custer. (No matter what Mr. Trandem thinks.) He has learned many life lessons and was more than willing to share them with us. Some of the things he mentioned were "Figure it out." He said to not be afraid to explore new options. Don't be afraid to be creative. He also said, "If you don't have something to do, get out there and do something." The thing that we will remember about Mr. Tretheway the most, is the same thing that he would like to have others remember about him after he is gone, "HE CARED." Mr. Tretheway certainly has cared throughout his life, and continues caring today. We are all thankful for the chance to meet him and we hope you all like this song as much as we enjoyed our time with Bill.