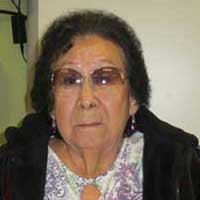 "Star Quilt Woman"
Words and music by Keith Burden
with Mr. Trandem's 4th Grade Class
©2012 Keith Burden
ALakota Honor Song… Star Quilt Woman
The following traditional Lakota honoring song was brought to us with the assistance of Reuben Twin, Sr. We learned the song to honor Freda's Lakota culture and to enrich our experience.
Wicaphi owinjawin blihiciyapo
(Star Quilt Woman be strong)
Le anpetuki nitawayelo
(This day belongs to you)
Wicaphi owinjawin blihiciyapo
(Star Quilt Woman be strong)
My name is Freda Goodsell.
I was born out on the Pine Ridge Reservation
My parents raised ten children
on a little cattle ranch outside the Badlands
We walked two miles to country school;
did our chores and homework every evening
It was a simpler time when life;
was something people made with their own hands
(Chorus)
My Star Quilts tell a story of the heavens
My Star Quilts tell a story of the land
My Star Quilts tell the story of a people
Passed along with strong Lakota hands
I can smell the new mown hay,
and see my father workin' in the hayfield
I see my mother's garden,
and smell the wood smoke on the autumn wind
I can hear the laughter of my brothers
and my sisters in the winter
Sledding down a snowy hill
with a lantern's light to guide them home again
(Chorus)
When I left home I got a job,
workin' at a laundry up in Custer
I later worked at Sylvan Lake,
Mount Rushmore and at Crazy Horse for years
I married, raised three children
and made wonderful friends right here in Custer
I tell the children, "STAY IN SCHOOL!"
and remember!
There were Native heroes here
(Chorus)

Freda Goodsell was born in Manderson, South Dakota. She was the sixth of ten children. Life was hard growing up and working on the family farm. She doesn't remember having many favorite activities or hobbies because there were so many chores for her to do. One of her fond memories was sledding at night after chores by lantern light. The sleds were handmade out of wood by her brother. Because her brothers and sisters were either too old or too young to play with her, her mom would "borrow" a local Native American girl for her to play with. Freda didn't speak any Lakota, and the girl didn't speak any English. They came to an agreement that they would teach each other and they did. Freda can still speak fluent Lakota today. One of their favorite games together was making mud pies. They didn't have any toys or "all the stuff kids have today" so they used their imagination and made their own. One of her most vivid memories was walking to school two miles one way. Education was very important to her family, so even though it was freezing and snowing sometimes, they went every day. In the summers, Freda would help her mom put in a large garden, and help her dad put up the hay.
Growing up on a farm they had a lot of animals, but her favorites were the calves.
Because education was important to her family, she remembers her older siblings helping her with homework, and she would help her younger siblings. She went to a rural government school with all Native American students and white teachers. She doesn't remember her favorite teacher's name, but said she was very strict with the students. She stayed in school until 10th grade when she quit to start work.
She liked the Manderson area that she grew up in. There were rolling hills and pine trees. There weren't a lot of cars back then, but the ones she saw were Model T's. Manderson had one general store. It had everything they needed: clothes, post office, food, and candy. Candy bars were 5 cents each! There were no restaurants, and they had no television or radio. The only time her family heard music was at church. Mrs. Goodsell said that one of the most exciting things she has ever done in her life was learning to drive a car.
When Freda was twenty years old, she started her first job at a Custer laundry. She was paid nice cents for every shirt she ironed. She would later work at Sylvan Lake and then Mt. Rushmore for twenty years. She then went to work at Crazy Horse, which has been one of her life passions. She started out babysitting the Ziolkowski children. She now works in the Crazy Horse store. She is a master quilter and has her Lakota Star Quilts all over the Earth. She has quilts in the Smithsonian Museum, the Vatican, Switzerland, South America, a bank in New York, and in the Crazy Horse Museum just to name a few.
Freda has traveled all over the United States, but she has never been outside our country. Her favorite place she has ever been was Oregon along the Columbia River. She also has fond memories of her vacation to San Francisco to see the Giant Redwood forest.
Today, Freda continues to work at Crazy Horse and she continues to make quilts for excitement. She donates a lot to the project at Crazy Horse. Her parting message to us was to stay in school, go to college, and don't take any days off. We think this is good advice and we plan to follow it. We feel that Mrs. Goodsell has lived a life worthy of admiring, and we thank her so much for coming to our classroom and sharing her time and memories with us.